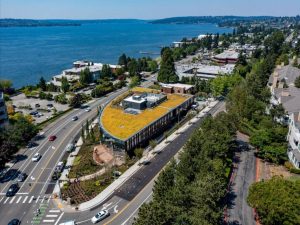 LMN Architects celebrates the completion of the Lakeview Office Building in Kirkland, Washington. Situated on a triangular, prominent site at the gateway to Kirkland, the building celebrates the use of wood and construction innovation.
The 4511 m2 (48,555 sf) project features wood in signature spaces, and includes a living roof, two levels of office space, and two levels of underground parking to complement the civic scale of the neighborhood while minimizing the impact on views of the surrounding context.
Two first-floor outdoor spaces and a roof-top common room with a deck promote social interaction and take advantage of the expansive west-facing vista of Lake Washington and the Olympic Mountains.
The main entry sequence along Lakeview Drive is defined by a shade garden and fern gully dappled with seasonal highlights. A specialty-formed concrete wall and metal wall system lead to a custom-designed granite water feature at the main entry and provide a respite from the road noise above. Integrated arching wood seating and deck at the south of the building provide a transitional garden overlooking the active views to the southwest.
The roof, rain gardens, and terraces mitigate water run-off by design and aesthetically reflect the forested hillsides and the verdant lake edges around Kirkland and the Pacific Northwest. The roof deck and terraces provide social spaces for gathering and relaxation, seating, and connections to the interiors.
Inside the building, the wood takes center stage, and the interiors showcase the exposed wood structure. Large, prefabricated wood elements acted as a kit-of-parts that could assemble on-site, with minimal disruption, noise, or waste. The SPF Dowel Laminated Timber (DLT) ceilings contrast with the Douglas Fir Glulam beams and pay tribute to the forests of the region.
The all-glass curtainwall exterior with operable windows corresponds to the gentle curve of the site, while providing extensive transparency, views of the lake, and visual connections to the activity in the neighborhood. The north and east facade is accentuated with textured punched windows and metal panels, complementing the residential landscape.