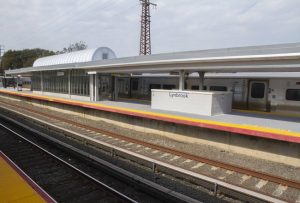 New York's Lynbrook Station renewal project showcases new waiting areas and outdoor platforms for passengers taking the Long Island Rail Road (LIRR). The station's translucent skylight and canopy systems were custom engineered and fabricated to shelter passengers and commuters from the sun and rain.
Originally constructed in 1936, Lynbrook Station was in need of modernization improvements to serve approximately 5000 weekday riders. In 2018, the Metropolitan Transportation Authority (MTA) and LIRR announced a $17.9 million initiative to upgrade the station's infrastructure and customer experience.
Onsite work for the Lynbrook Station Enhancement Project began in summer 2019 and Zion Contracting completed construction ahead of schedule in July 2020. The four-track elevated station now features updated eastbound and westbound platforms with new canopy systems. There are three polycarbonate canopies on each platform.
"The preexisting platforms and shelter structures were ripped out, but the steel was left to build on," said Ron Clelland, the manufacturing company's architectural representative for New York City.
Working with these remaining structural supports, the manufacturing company designed a custom replacement combining elements from both its skylight and canopy systems.
"This is the first application we know of using polycarbonate material in this area. The results are a more modern visual look with great rain and sun protection for passengers," said Hely Manuel Duarte, MSc., Zion Contracting's president.
The three translucent canopies on each platform are approximately 25, 23, and 69 m (83, 74, and 227 ft) long, for a combined total of 771 linear feet. The translucent, 20 mm (0.8 in.), polycarbonate panels were selected in an opal color and with an ultraviolet (UV)-resistant coating to manage solar heat gain.
"Nearly 2000 individual panels create the six canopies and thousands of feet of custom brake metal join it all together within the anodized, extruded aluminum framework," said Jim Leslie, the manufacturing company's general manager.
Sloped, standing-seam canopy systems cover the elevators, escalators, and main circulation paths to board and exit from the platforms. A custom, barrel-vaulted 'skylight within a canopy' design was created for above the stairwells. Each one spans a little more than 27 m (88 ft) long by 7 m (23.5 ft) wide and incorporates 200-plus polycarbonate panels. The unique design comprises the top-side glazing and the 'soffit' underneath.
The customized canopy solution enhances passenger comfort at Lynbrook Station, while adding height, light, and a sense of openness. Natural light illuminates the station during the day and diffuses direct top-lighting to help reduce glare and excess heat. At night, high-efficiency light-emitting diodes (LEDs) positioned above the polycarbonate soffits illuminate the platform and create a soft, glowing appearance from the outside.
For structural integrity, the aluminum framing also integrates low-friction gaskets accommodating the thermal movement inherent to polycarbonate panels of any significant length. After its useful life on Lynbrook Station, the metal is 100 percent recyclable.
Due to the systems' outdoor installation and their proximity to accelerating and decelerating trains, the skylight and canopy systems for Lynbrook Station were tested to successfully meet the required wind pressures.
The polycarbonate panels also provide high impact resistance, such as for blowing debris and heavy precipitation. Understanding water management was critical; Lynbrook Station's custom canopy and skylight was engineered with a proprietary, separate gutter system to direct rainwater and snow melt, control condensation, and mitigate leakage.
Along with its innovative gutter system, the system's polycarbonate panels avoid the unsightly 'fiber bloom' and yellowing associated with fiberglass. Without the extra precautions needed to handle fiberglass, fabrication and installation of lightweight polycarbonate systems can be easier and faster. This further contributes to keeping projects on schedule and within budget.
Lynbrook Station remained operational throughout its renovation. Minimizing disruption to passengers and trains, Zion Contracting's team worked off-peak hours to install the systems on both new platforms.