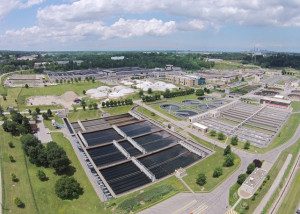 An Ohio wastewater treatment plant is the oldest infrastructure project to win an Envision award. In 2014, the plant authorities opened a renewable energy facility (REF), which was a key driver to pursuing Envision verification.
The Northeast Ohio Regional Sewer District (NEORSD) Southerly Wastewater Treatment Plant in the Greater Cleveland area is the recent recipient of the Envision Silver award for sustainable infrastructure.
The Envision system—a collaboration between the Institute for Sustainable Infrastructure (ISI) and the Zofnass Program for Sustainable Infrastructure at the Harvard University Graduate School of Design—rates infrastructure projects across the full range of environmental, social, and economic impacts. It is typically applied at the planning and design stages of infrastructure development. For the NEORSD Southerly Plant, a pilot initiative was undertaken in which Envision verification was pursued well into the plant's operational life.
The plant became operational in 1928, and underwent a major rehabilitation in 1974 with a $400-million investment. Located in the village of Cuyahoga Heights on a 117-ha (288-acre) site, it serves a population of more than 530,000. It is the largest of the district's three wastewater treatment plants, handling an average daily flow of 120 million gallons per day.
NEORSD creates approximately 70 percent of the employment in Cuyahoga Heights. More than 200 people work at the Southerly Plant.
NEORSD offers introductory-level workshops for Northeast Ohioans interested in learning more about the history and future of sewer systems, water quality, and sustainability in the region.
The recently completed REF uses sludge, septage, and grease from both the Southerly and Easterly plants to generate energy. The construction of the REF, along with the decommissioning of the Southerly Plant's biosolids thermal conditioning system, contributes to a reduction in natural gas usage by approximately 137,000 mcf per year.