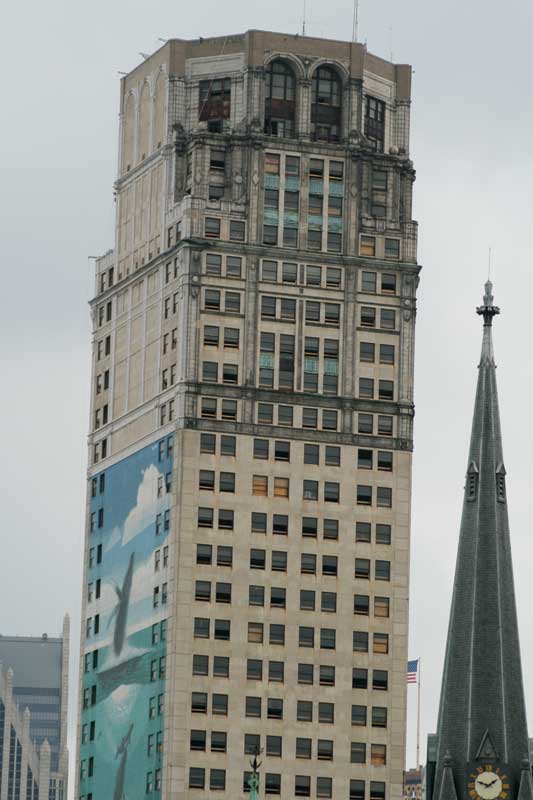 Designed by Louis Kamper and built in the historic Grand Circus Park district in 1928, Detroit's 35-story Eaton Tower was the state's second-tallest skyscraper. Now known as the Broderick Tower, it has been revitalized into residential suites.
After several changes in its ownership, the landmark was eventually left vacant in the 1980s, making it one of the tallest abandoned buildings in the country.
In 2011, the structure's revitalization began, converting it into a residential building with 124 apartments, office, and commercial space. The $53-million, 18,580-m2 (200,000-sf) restoration project was funded by the building's new owner Motown Construction Partners LLC; and the design team included JC Beal Construction and Kraemer Design Group.
Construction began in March 2011 and the opening was in October 2012. Shortly after construction finished, all 124 apartments had been spoken for, ranging in size from approximately 29 m2 (300 sf) to more than 204 m2 (2200 sf).
Kraemer's Brian Rebain explains that while many of the building's existing masonry façade materials were able to be used, a portion of the decorative cast iron detailing was not. In the areas where the material was corroded, new trim was installed to match the existing design.
"We created molds utilizing the existing cast iron details, and cast new replica details out of composite polyurethane materials for a seamless repair job," he said.
Additionally, the skyscraper's exterior included limestone in need of repair. The damaged areas—including two corners where large pieces had fallen during the projects preliminary inspections—were retrofitted with a remedial pinning and tying system that re-joined, stabilized, and reinforced the existing material.
This installation was concealed within the existing materials, which allowed the building to retain its historic appearance while also cut down on construction time as a complete rebuild was not necessary.
Many of the historic window assemblies were also replicated and replaced while energy-efficient, thermally broken aluminum windows were installed throughout the Tower, maintaining the views of the cityscape.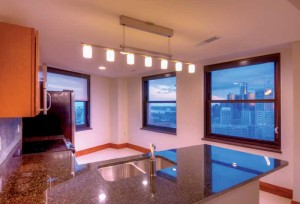 For the building's interior, the design team looked to revitalize many of the existing elements.
"The existing stone flooring, marble wainscot, and decorative plaster detail in the building's historic elevator lobbies were restored, while adding new satin bronze fixtures and other modern materials to complement the historic nature of the space," said Rebain.
One of the design challenges for this project was the combination of having a small floor plate and executing high-rise construction.
"We had to deal with a sea of large columns and many vertical shaft elements on every floor of the building," said Rebain. "We were challenged to provide open, modern apartments within a fairly confined space all while preserving the critical historic elements of the building."