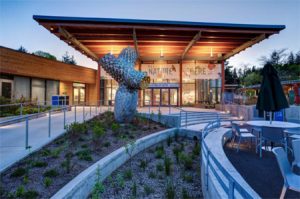 Opsis Architecture of Portland designed the Oregon Zoo education center with the primary goal of keeping birds safe. The firm used bird-friendly, low-emissivity (low-e) glass with solar control on the building's façade.
Intended to be a hub of environmental learning and activity, the 1858-m² (20,000-sf) facility, which opened in March 2017, features floor-to-ceiling glass with an etched pattern of varying line widths and spacing. This visual 'marker' enhances visibility and prevents bird collisions, while supporting the center's mission of education.
The center is designed for net-zero energy use as the glass blocks more than 70 percent of the sun's heat energy while transmitting 65 percent of its ambient light. By diminishing the need for artificial cooling and lighting, the glass plays a vital role in the center's integrated energy management system that includes passive ventilation systems, 760 solar panels, light – emitting diode (LED) lighting, and high-efficiency heating and cooling systems.
The glass employed in the project has a visible light transmittance (VLT) of 64 percent at the center and a solar heat gain coefficient (SHGC) of 0.27 in a standard 25-mm (1-inch) insulating glass unit (IGU).
Other sustainability strategies such as rainwater harvesting, a wildlife garden and Forest Stewardship Council (FSC)-certified wood products are designed to help the center achieve the Living Building Challenge's (LBC's) net-zero energy certification. The facility is also pursuing a Leadership in Energy and Environmental Design (LEED) Platinum certification.