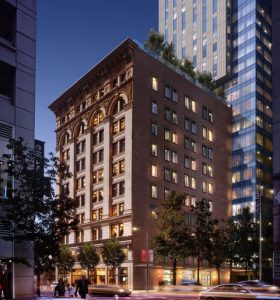 San Francisco locals know the Chicago School-style building at 706 Mission Street as a plucky survivor, still standing after almost 120 years, two high-magnitude earthquakes, and a major city fire. With the help of the architects and preservation experts at Page & Turnbull, the 10-story Aronson Building is set to begin a new chapter, restored to its former glory as part of a new mixed-use development.
Page & Turnbull will be collaborating with Handel Architects for the new development featuring a new 45-story tower connected to the 1903 Aronson Building. The tower, with 146 residences by Four Seasons, is a backdrop for the adjacent historic structure, which will have 18 loft-style residences on its upper floors. A cultural component will occupy the second, third, and fourth floors of both the Aronson Building and the new tower.
According to Elisa Skaggs, AIA, associate principal with Page & Turnbull, the firm's architects and conservators were focused on preserving the Aronson Building's elaborate façade which inspired the vertical masonry Handel Architects included in its design for the adjacent tower. Page & Turnbull also oversaw the stabilization of the approximately 11,148-m2 (120,000-sf) structure to make it fit for new uses and ensure continued life.
"Our collaboration with 706 Mission Street Co. and Handel Architects has made the most of this historic building, which is a treasured part of our city's past," said Skaggs. "We take a great deal of pride in ensuring the storied Aronson Building will continue to be an active, vibrant part of life in San Francisco."
The 706 Mission Street development, which totals approximately 65,032 m2 (700,000 sf) between the two buildings, also includes plans for roughly 446 m2 (4800 sf) of ground-level space for retail and restaurant uses.