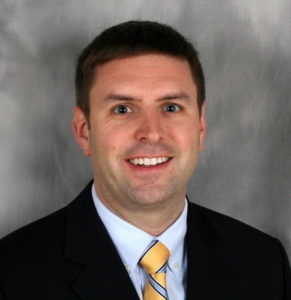 FAILURES
Deborah Slaton, David S. Patterson, AIA, and Kenneth M. Itle, AIA
During a building renovation, new composite-deck balconies were installed. The exposed galvanized steel deck at the underside of each balcony was painted soon after installation. The coating system consisted of an epoxy primer followed by a urethane topcoat. The coating failed within one year of application, with the primer separating cleanly from the galvanized steel substrate.
Hot-dip galvanizing of steel is a process in which molten zinc reacts and metallurgically bonds with iron or steel, providing a zinc coating that protects the steel from corrosion. As the zinc coating weathers, it gradually forms a protective film that functions as an additional layer of protection on the surface. Galvanized steel can be left unpainted in typical atmospheric conditions. However, paint may be necessary for protection in certain exposures, as well as for aesthetic or safety color-coding reasons.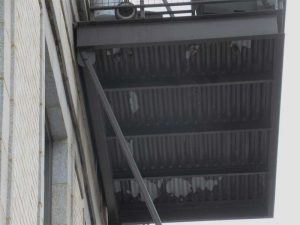 The process of weathering of the galvanized surface begins when the zinc coating reacts with atmospheric oxygen to form zinc oxide. The zinc oxide on the surface then reacts with moisture to form zinc hydroxide. Finally, the zinc hydroxide on the surface reacts with the atmospheric oxygen and carbon dioxide (CO2), forming a zinc carbonate film on the galvanized surface. Once oxidation of the zinc galvanizing has begun, the zinc oxide and zinc hydroxide must be removed (typically by abrasive blasting) before application of a coating, otherwise the bond of the coating may be adversely affected. Unlike zinc oxide and zinc hydroxide, zinc carbonate is a stable, non-water-soluble, surficial layer that can be painted after cleaning. However, the natural weathering process that leads to zinc carbonate formation can take up to two years, depending on environmental conditions.
Prior to painting a galvanized steel surface, the method of preparation depends on whether the steel is newly galvanized, partially weathered, or fully weathered, as the galvanized surface has different characteristics at each state of weathering. ASTM D6386, Standard Practice for Preparation of Zinc (Hot-dip Galvanized) Coated Iron and Steel Product and Hardware Surfaces for Painting, describes several methods for the preparation of new, partially weathered, and fully weathered hot-dip galvanized steel surfaces for application of liquid-applied paint coating products. ASTM D6386 defines newly galvanized steel as having been galvanized within the previous 48 hours, therefore, a galvanized surface to be painted in the field should typically be considered partially or fully weathered. Abrasive blasting is often used for preparation of partially weathered galvanized steel because it provides sufficient profile to meet most coating manufacturers' requirements. The Society for Protective Coatings (SSPC) SP16, Brush-off Blast Cleaning Non-ferrous Materials, offers guidance for the blast cleaning process. Additionally, the American Galvanizers Association also publishes guidance documents on preparation of galvanized steel for painting.
In the example shown, no specific surface preparation was implemented for the galvanized steel deck other than power washing. The partially weathered galvanized steel surface did not provide a stable substrate to which the paint coating could adequately bond, leading to the observed paint failure.*
To provide a durable coating system, complete removal of the existing coating, proper preparation of the substrate, and reapplication of the coating system is required. (Another possible cause of coating failure on galvanized steel is chromate or water quenching of the galvanizing. These treatments should be precluded in the specifications for galvanized steel that is intended to be painted.)
The opinions expressed in Failures are based on the authors' experiences and do not necessarily reflect those of The Construction Specifier or CSI.
*Leonard L. Phelps, a chemist and associate principal with the WJE Janney Technical Center in Northbrook, Illinois, contributed to this article.
Deborah Slaton is an architectural conservator and principal with Wiss, Janney, Elstner Associates (WJE) in Northbrook, Illinois, specializing in historic preservation and materials conservation. She can be reached at dslaton@wje.com.
David S. Patterson, AIA, is an architect and senior principal with WJE's office in Princeton, New Jersey. He specializes in investigation and repair of the building envelope. He can be reached at dpatterson@wje.com.
Kenneth M. Itle, AIA, is an architect and associate principal with the Northbrook office of WJE, specializing in historic preservation. He can be reached via e-mail at kitle@wje.com.