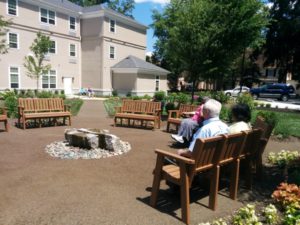 Earlier this summer, Federation Housing, a nonprofit developer of retirement homes, installed a 502-m2 (1650-sf) permeable pavement at its Samuel A. Green House in Elkins Park, a closed-in suburb of Philadelphia. The pavement was for walkways and a circular patio at Gil Rosenthal Garden of Peace, located in the Green House (a low-income housing tax credit building for the elderly). The three-story building has 84 one-bedroom apartments.
The highly porous, environmentally responsible, and durable paving material was made from 50 percent recycled rubber chips and kiln-dried aggregate mixed with a liquid binder. Landscape design firm Garrett Churchill installed the 1.5-m (5-ft) wide walking paths and 7-m (24-ft) diameter patio. The material was mixed onsite and poured in place at a depth of 38-mm (1 1/2 in.) atop a 101-mm (4-in.) base of compacted crushed aggregate.
"The project required a paving material with more porosity than regular ones. Otherwise, we had to install additional stormwater retention features at grade, adding costs and detracting from the garden," said Jane Lahage, director of operations at Federation Housing. "The average age of residents is 80. We needed a safe surface so they can get out and enjoy the garden."
"The rubber content gives it good traction and makes it freeze- and frost-heave-resistant to eliminate the risks of heaving and cracking," added Andy Sykes, owner of Garrett Churchill.
The paths enable Green House residents and neighbors to enjoy the greenery provided by seven shade and three flowering trees, 120 shrubs, and 150 perennials. A simple water feature installed in a 363-kg (800-lb) slab of granite—saved from a demolished old house onsite—is at the patio's center, which also offers wood-bench seating.