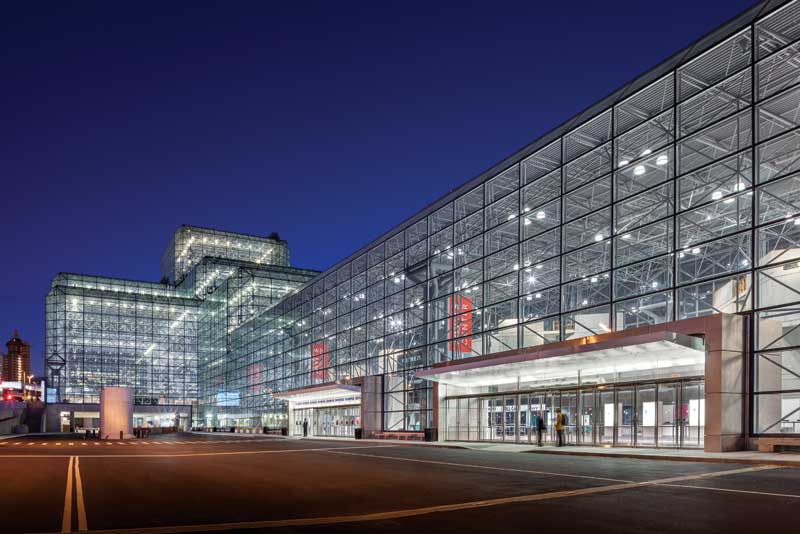 By Jennifer Gleisberg, CDT
Specifying high-performance coatings for structural steel framing, decking, or curtain walls can be a tall order when the application surface is located hundreds of feet above ground level. The specified coatings must protect the structural integrity of these hard-to-reach steel exposures against corrosion, while increasing longevity, enhancing aesthetic appeal, reducing maintenance, and conforming to environmental regulations.
Architects and specifiers must carefully evaluate coating systems under actual service conditions for corrosion resistance, color retention, protection against ultraviolet (UV) light degradation, and color compatibility. These were important considerations in the selection of field-applied coatings used during the renovation of the Jacob K. Javits Convention Center in New York City, as well as shop-applied coatings for the new Anaheim Regional Transportation Intermodal Center (ARTIC) in California.
Coatings selected for such high-profile projects should be products that will extend the lifecycle of the substrate and limit the need for repairs and recoating in the near future. Coatings applied in high, hard-to-reach areas are often subjected to extensive testing in the lab and in the field, to ensure their capabilities are legitimized prior to their application. When specifying coatings for architectural projects, considerations are often far more than aesthetic—rather, they are concerns of longevity and performance based on a coating's background and test data.
From New York to California, the application of high-performance coating systems is a major part of any architectural project. All buildings, whether renovation or new construction, require specific needs from their coating systems and each system specified should be the right fit for the project at hand.
Jacob K. Javits Convention Center
Since its opening in 1986, the Jacob K. Javits Convention Center has been New York City's primary venue for large conventions, exhibitions, and trade shows—attracting an average of 2.5 million people to the city each year. The iconic structure, designed by James Freed of I.M. Pei and Partners, is a major contributor to the city and state economies, so 
it was essential to maintain its existing operations
at all times during the four-year, multi-phased renovation project.1
In 2005, an analysis of existing conditions reported the Javits Center's roof had failed, resulting in "numerous leaks" and "extensive water infiltration." The analysis also identified "systemic failure" of the five-story glass curtain wall known as the Crystal Palace, along with surface corrosion of the interior structural steel space frame, and the need to upgrade the mechanical, electrical, and plumbing systems.2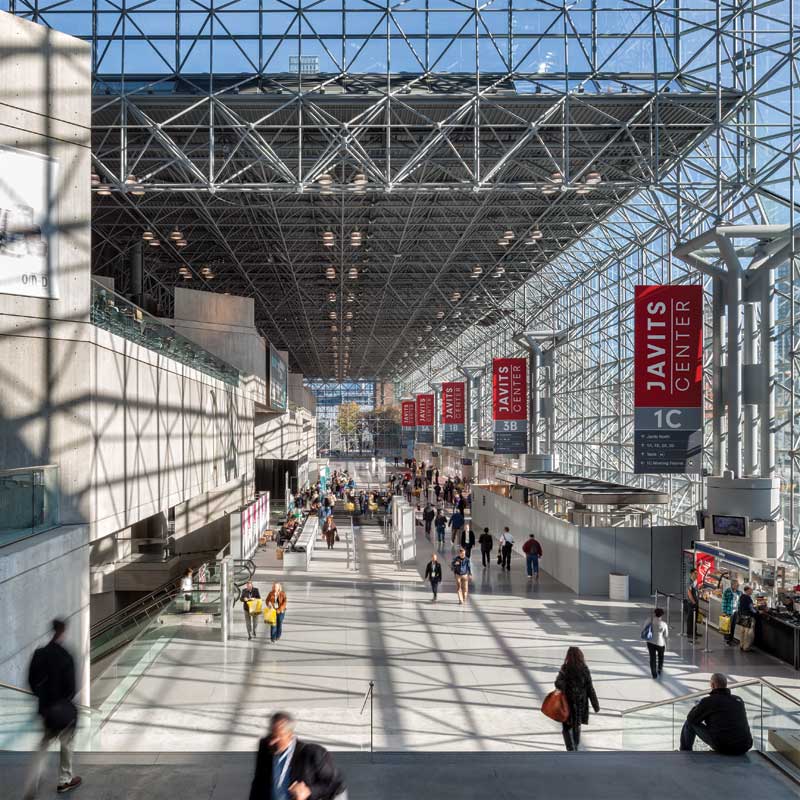 The analysis led to an extensive scope of work that included the construction of a 2.73-ha (6.75-acre) green roof, replacement of the 22,296-m² (240,000-sf) glass curtain wall with low-energy glazing, and remediation of corrosion on the structural steel space frame. Energy-saving upgrades to the mechanical, electrical, and plumbing systems, contributed toward achieving Leadership in Energy and Environmental Design (LEED) Silver certification.3
Other improvements involved the replacement of exterior doors and hardware, installation of a perimeter security system, a new public address system, and enhanced life safety measures, including fire doors, fire alarms, strobes, and sprinklers.
The project involved the construction of a 10,219-m² (110,000-sf) expansion consisting of a pre-engineered manufactured structure that contained 3716 m² (40,000 sf) of exhibition space, pre-function and registration areas, restrooms, food service, and loading docks. The expansion enabled the Javits Center 
to remain open and operational throughout the $465-million renovation project while the existing facility portions were taken out of service.4
The center's existing curtain wall—dark, mirrored glass—was replaced by 3722 panels of energy-efficient, translucent glass, in addition to 2400 skylight panels, enabling natural daylight to fill the interior of the 47-m (155-ft) tall Crystal Palace. The switch from darker glass panes to transparent glazing was accompanied by a change in the color of the interior structural steel space frame and underside of the deck from dark brown to a lighter gray.