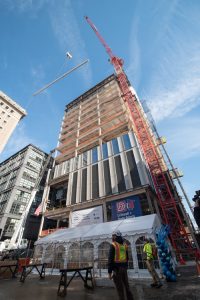 The Jefferson Specialty Care Pavilion recently celebrated its vertical construction milestone.
The 19-story pavilion is a joint construction venture between LF Driscoll and Hunter Roberts Construction Group. It was designed by Ennead Architects and interior design firm Stantec, with structural engineering by The Harman Group, pad site design by BLT Architects, and landscape architecture by Margie Rudduck Landscape.
The Jefferson Specialty Care Pavilion was the largest construction project in the city of Philadelphia in 2020 and marks the next phase of the over $1 billion East Market development. It has already used more than 6,500 pieces of American-made steel and has begun the next phase of installing the American-manufactured curtain wall façade. This next phase will significantly improve the pedestrian experience, streetscape, and public spaces while also increasing the overall value of nearby developments.
The project is expected to support 3,390 jobs prior to its completion in 2024.