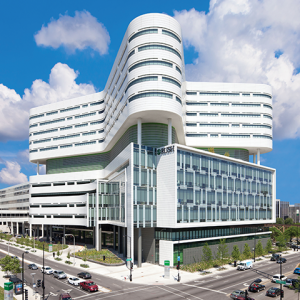 Case studies
An example of unique architectural design and daylighting is the Cleveland Clinic Lou Ruvo Center for Brain Health in Las Vegas. This medical center is dedicated solely to the pursuit of more effective treatments for brain diseases and to the provision of state-of-the-art care for patients affected by these diseases and their families.
Designed by Los Angeles-based Gehry Partners the building is dominated by exterior walls that appear bent, twisted, and unsettled—it was a challenge for the design team.
"Not only does the project showcase the ability of a shading system to accommodate unconventional architecture composed of curved surfaces and irregular apertures, but the shading system also dynamically adjusts the position of shades (open, closed, or halfway) in response to a preset allowable solar heat load—an appropriate responsive solution for a hot, dry desert climate," said Tanteri.
Roller shades were used to cover more than 200 windows in the building with some developed especially to cover the sideways traveling windows.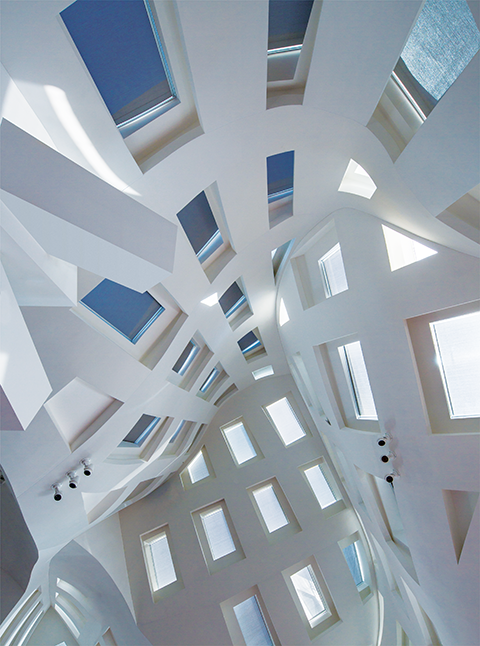 The new 195,096-m2 (2.1-million sf) Parkland Hospital in Dallas, Texas plans to open in the spring of 2015 and makes use of motorized and manual shades. The automated systems are used in public spaces of the hospital while manual solar and blackout shades are in each of the 865 patient rooms. The hospital features a glass façade and uses automatic lowering and raising shades for solar, thermal, and heat gain control.
The motorized shades are prevalent in all public spaces of the hospital such as the cafeteria, waiting rooms, and lobby. The $1.3-billion project was designed by Omaha, Nebraska-based HDR Inc., and Dallas' Corgan Associates.
Meanwhile, the University of Texas Southwest Medical Center, part of the Parkland Hospital complex, features a motorized system that can be controlled by patients.
An alternative shading system is one that completely covers windows to block out the sun. This system, which incorporates side channels to capture the zippered edges of a shadecloth, is generally used for tall, narrow windows and operates close to the window to prevent pressure and heat buildup.
The design allows the shade band to resist being pushed or pulled out of place by air pressure, and eliminates light leaks between the shadecloth and the channels for superior room-darkening needs.
Healthcare facilities typically use these shading types for neurological patients or those with migraine headaches.
Conclusion
Moving forward, designers and lighting experts are hoping for an increased understanding of how to balance glare and view using various multi-parameter window metrics,
said Tanteri.
"Closer on the horizon, as energy codes push construction toward greater levels of energy management, I see increasing acceptance towards the use of automated shades as means to reduce window solar heat gain coefficient to an acceptable value," he explained. "In this effort, the modeling of complex fenestration systems will become more commonplace and accurate in terms of predicting both light and energy performance."
William L. Maiman is marketing manager at MechoSystems, (Long Island City, New York), working to inform the architectural, lighting, and interior design communities of daylighting benefits. He has spoken at the American Institute of Architects (AIA) convention and is a National Electrical Manufacturer's Association (NEMA) Daylight Management Committee Council member. Maiman has also taught Lighting Design at the Fashion Institute of Technology (FIT). He can be contacted by e-mail at william.maiman@mechosystems.com.