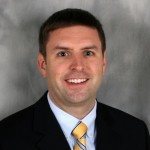 FAILURES
David Patterson, AIA, Deborah Slaton, and Kenneth Itle, AIA
A 1920s neo-Classical building's ornamental plaster ceilings were a source of wonder and pride to the office workers who passed through the corridors each day. However, one morning, cracks were noticed in the ceiling, so the corridor was roped off. The next day, a 4.6 x 12.2-m (15 x 40-ft) section of the ceiling had fallen 7.6 m (25 ft) to the floor below. No building-wide structural distress, moisture infiltration, or outside cause was observed or reported that could have led to the collapse.
After emergency stabilization measures shored the remaining ceiling in place, an investigation was conducted at the collapse location as well as intact ceiling areas. The plaster ceiling was found to be supported on a network of steel channels suspended from the structural concrete floor slab above. Large portions of the ornamental ceiling consist of pre-molded plaster panels reinforced with fiber (without lath), supported by plaster wads wrapped around the primary steel channels. The plaster wads are hand-formed tube-shaped elements, reinforced with jute fibers. During construction, the wet plaster wads were applied to connect the suspended plaster panels with the steel structure. When the wads dried, they provided a rigid structural support for the panels.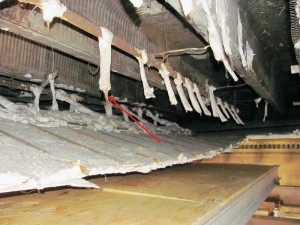 The investigation revealed breakage occurred within each wad, rather than at the point where the wads are adhered to the panels or tied to the steel framing. This indicated the failure was caused by breakage of the plaster wads as a result of the jute's tensile failure. The fiber is a natural product and loses strength over time as it dries out. The material's progressive loss of strength led to failure of individual plaster wads—essentially, failure of one wad increased the loads applied to the adjacent ones. Additionally, at the area of the collapse, a number of plaster wads with poorly integrated fiber reinforcing were observed, making these individual wads inherently weak and more vulnerable to loss of strength (and failure) over time.
As the condition of the plaster wads at the remaining intact areas of the ceiling cannot be readily observed or reliably monitored, other areas vulnerable to this type of failure are considered potentially unstable. In this case, supplemental anchorage was recommended to prevent potential future collapses.
Deborah Slaton is an architectural conservator and principal with Wiss, Janney, Elstner Associates (WJE) in Northbrook, Illinois, specializing in historic preservation and materials conservation. She can be reached at dslaton@wje.com.
David S. Patterson, AIA, is an architect and senior principal with the Princeton, New Jersey, office of WJE, specializing in investigation and repair of the building envelope. He can be contacted at dpatterson@wje.com.
Kenneth M. Itle, AIA, is an architect with the Northbrook office of WJE, specializing in investigation and preservation. He can be reached at kitle@wje.com.