by Jennifer Gleisberg, CDT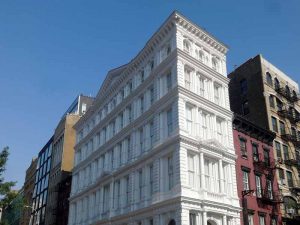 With the world's largest concentration of full and partial cast-iron buildings, New York City's NoHo and SoHo neighborhoods are treasure troves of historically significant architecture built during the second half of the 19th century.
The significance of cast-iron architecture has been recognized by the New York City Landmarks Preservation Commission (LPC), as the NoHo and SoHo neighborhoods have been certified local historic districts. The NoHo area received landmark designation in 1999 that was extended in 2008, while SoHo was designated a historic district in 1973 and extended in 2010.
Cast-iron façades consist of thousands of pieces prefabricated in foundries using molds and held together by clips, angles, and mechanical fasteners. According to LPC, cast-iron architecture from the mid- to late-1800s offered several attributes New York businesses found attractive.
"A cast-iron structure was easy and quick to erect in comparison with a masonry building, and it was also cheaper," the commission reported. "Essentially, the pieces were an early form of prefabrication; they were cast in multiple units that could be readily combined and assembled in numerous ways. Naturally, this was much cheaper than carving each piece individually in stone."
Finished façades imitated classical French and Italian architectural designs and were often painted to resemble sandstone, limestone, or even marble.
"When faced with a limited budget, an owner far preferred an elaborate cast-iron façade reflecting the grandeur of Paris or Venice than a simple masonry wall," the commission said.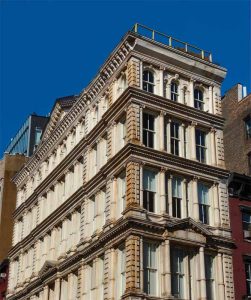 Guidelines and standards governing New York's historic districts protect cast-iron structures from demolition, structural alterations, or exterior changes, while also emphasizing the importance of preserving and maintaining landmark buildings from deterioration.
Maintenance and repair techniques for restoring severely rusted or damaged cast-iron façades were presented in a National Park Service (NPS) preservation brief prepared in cooperation with the New York Landmarks Conservancy. The brief was prepared by John G. Waite, FAIA, a former senior historical architect for the New York State Office of Parks, Recreation and Historic Preservation and senior principal at John G. Waite Associates, Architects PLLC.
"The successful conservation of cast-iron architectural elements and objects is dependent upon an accurate diagnosis of their condition and the problems affecting them, as well as the selection of appropriate repair, cleaning, and painting procedures," Waite explained. "Frequently, it is necessary to undertake major repairs to individual elements and assemblies; in some cases, badly damaged or missing components must be replicated."