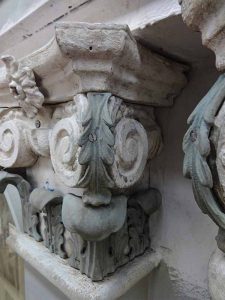 Waite offered the following suggestions when assessing the condition of cast-iron façades:
erect scaffolding or use a mechanical lift to carefully inspect every section of iron construction, including bolts, fasteners, and brackets;
remove paint to determine the condition of connections, metal fasteners, and intersections of crevices where moisture can collect; and
establish whether loadbearing columns and beams are performing in accordance with their original design, or if stress patterns have changed.
If extensive damage to the cast iron is present, it is best to secure the services of an architect or conservator specializing in historic buildings, recommended Waite.
A critical part of the cast-iron restoration process involves the application of high-performance coatings like those specified for the award-winning 54 Bond Street building in New York's NoHo Historic District and the 77 Mercer Street condominium in SoHo.
Bond Street building
Constructed in 1874, the 1394-m2 (15,000-sf) building on 54 Bond Street started as a bank and was later used for storage space and as a theater. In 2007, the six-story building was converted into a condominium property occupied by commercial spaces on its first two floors and high-end residential lofts on the upper levels. It is currently owned by the 54 Bond Street Condominium.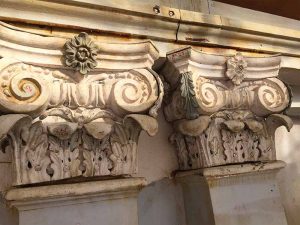 Designed by Henry Engelbert in elegant French Second Empire style, the building was designated a New York City landmark in 1967 by LPC and was listed on the National Register of Historic Places (NRHP) in 1980.
Despite its architectural pedigree, time took its toll on the structure's cast-iron exterior, leaving it heavily rusted, leaking, and in need of a major restoration.
In 2011, New York-based CTA Architects P.C. was contracted by the building's owner to restore the cast-iron façade to its original condition, address severe leakage issues, and perform construction project administration services.
Throughout the restoration of 54 Bond Street, CTA worked with LPC. The commission approved all processes, materials, and equipment, including the security cameras installed on the building. CTA specified cameras that were installed using a low profile to not detract from the building's aesthetics.
After successful completion of the restoration in 2017, the cast-iron project received the New York Landmarks Conservancy's highest honor for preservation, the Lucy G. Moses Preservation Award in 2018.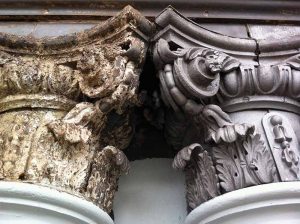 Early work on the $4.5-million project involved detailed documentation of the façade's condition by CTA project manager Matthew Jenkins, AIA, who is experienced in cast-iron restorations. Jenkins is a member of the Association for Preservation Technology International (APT) and the Society of Architectural Historians (SAH). He also serves as an advisor to the Historic District Council (HDC) in New York and is an adjunct lecturing professor at New York City College of Technology–City University of New York.
The 54 Bond Street façade was unique in terms of its size, corner location, and the volume of ornamental cast-iron components. This resulted in a more extensive project. Jenkins estimated only a handful of cast-iron buildings in Manhattan have two façades.