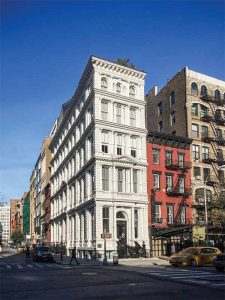 Jenkins spent long days working from a boom truck to assess the extent of damage to the façade's ornamental cast-iron components, ranging in size from 102 x 102 mm (4 x 4 in.) to 2 m (6 ft) long x 508 mm (20 in.) wide.
"Seventy-five percent of the cast iron was removed from the building completely," Jenkins recalled. "We examined both the inside and outside of each piece that came off the building for rust and deterioration to determine how many pieces needed to be replaced and which required casting new pieces. With cast iron, the foundry can make molds from original pieces. This ensures the replicated units are the exact same size as the originals."
Cast-iron pieces to be replaced were numbered and shipped to a foundry in Ghent, Belgium. There, 164 molds were created and used to replicate 2890 cast-iron components. The components were then shipped to the jobsite in New York for assembly and installation. Special care was taken to avoid the use of alternate materials from those found on the original building façade.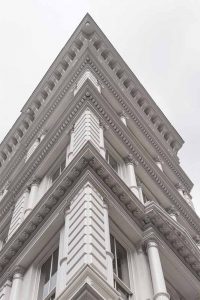 Given the building's landmark status, CTA placed a high priority on preserving as much original material as possible, Jenkins noted. Stripper tape containing a solvent was used to remove old paint from original cast-iron pieces found to be in good condition, which would remain attached to the façade. This method prevented dust from drifting onto adjacent properties.
Jenkins' inspection included the façade's cast-iron water tables running the length of the building between each floor, a sheet metal cornice at the top of the structure, and three exterior stairways leading to residential and retail entrances.
Resembling decorative cornices, the water tables serve dual purposes as a design element and to prevent water from running down the face of the building. The tops of all the water tables, where rainwater pooled, were replaced with new cast iron, molded to fit perfectly.
The deteriorated sheet-metal cornice and structural supports located at the top of the building were replaced with an exact replica fabricated in Long Island City.
Jenkins discovered the original cast-iron stairways concealed underneath diamond plate sheet metal shells installed by a former owner. New stairs and balusters were constructed to match the originals found in old photographs and from remnants that survived more than a century of heavy use and weathering.
Collaboration between Jenkins and the project's coatings consultant Phil Gonnella involved testing the adhesion and performance of a water-based, low-odor protective coating system with minimal levels of volatile organic compounds (VOCs). The odor control was an important element because the residences in the building were occupied.
PAINT REMOVAL AND APPLICATION
In his National Park Service (NPS) preservation brief, "The Maintenance and Repair of Architectural Cast Iron," author John G. Waite, AIA, discusses several techniques for removing old paint and corrosion from architectural cast iron, including wire brushing, sandblasting, flame cleaning, and the use of chemical methods such as acid pickling.*

According to Waite, selecting the appropriate technique depends on how much paint failure and corrosion has occurred as well as surface detailing, local environmental regulations governing the removal and disposal of materials, and the type of protective coating specified.

"Thorough surface preparation is necessary for the adhesion of new protective coatings," Waite said. "All loose, flaking, and deteriorated paint must be removed from the iron, as well as dirt and mud, water-soluble salts, oil, and grease. Old paint that is tightly adhered may be left on the surface of the iron if it is compatible with the proposed coatings."

When it comes to the selection and application of new coatings for cast-iron restoration projects, Waite recommended:
consulting with manufacturer specifications or technical representatives regarding compatibility between surface conditions, primer, and finish coatings and application methods;
ensuring the cast-iron surface is entirely dry before coating;
applying a corrosion-inhibitive primer immediately after removal of old paint to prevent new rusting; and
avoiding the application of coatings under foggy, misting, or rainy conditions, or when temperatures reach below 10 C (50 F) within 24 hours or when relative humidity (RH) is above eight percent.
* For more information, read "The Maintenance and Repair of Architectural Cast Iron" by John G. Waite, AIA, technical preservation services, National Park Service (NPS), 1991.
All cast-iron components replicated at the foundry in Belgium were galvanized in molten zinc prior to receiving a shop-applied coating of polyamide epoxy with fast-curing and rapid handling properties, well suited for steel fabrication.