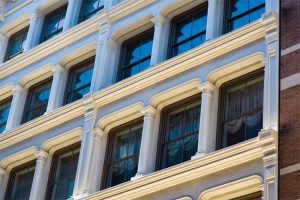 On arrival at the jobsite, each cast-iron component was fully coated inside, outside, and on its edges with two coats of a patented water-based epoxy to provide durability and corrosion resistance. A finish coat of aliphatic acrylic polyurethane provided resistance to abrasion and weathering.
Coating applicators from Traditional Waterproofing & Restoration worked from pipe scaffolding under a containment system to prevent debris from drifting onto adjacent properties and vehicles. Coatings were applied in accordance with the manufacturer's specifications using brushes, rollers, and airless sprayers.
The façade's sheet metal cornice was shop-primed with a water-based, rust-inhibitive acrylic coating, followed by a finish coat of a water-based, high-dispersion pure acrylic polymer. The polymer was also used on wood window frames to match the overall color of the façade.
Since new sheet metal tends to flex, it is inadvisable to apply thick, stress-inducing coatings due to the risk of delamination. Therefore, thin acrylic coatings were specified to provide tenacious adhesion, long-term protection, and color retention on sheet metal.
Water-based coatings are specified for use when low-odor and low-VOC performances are being considered, Gonnella noted. Of the 50 to 60 New York cast-iron restoration projects Gonnella has worked on, solvent-based coating systems were usually specified.
77 Mercer Street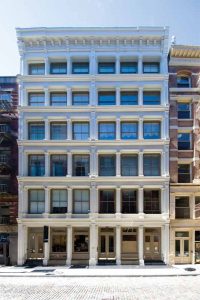 A three-coat system of solvent-based, zinc-rich primer, followed by an acrylic polyurethane intermediate coat and a fluoropolymer topcoat, was specified for 77 Mercer Street, a circa-1876 cast-iron building located in the SoHo Historic District. This New York City landmark functioned as a store and loft building before being converted into a condominium.
The scope of the 77 Mercer Street project involved rehabilitation of the cast-iron structure, design of a decorative metal cornice, sidewalk restoration, and waterproofing to correct moisture infiltration issues. Design and engineering services were provided by New York-based Form Space Image (FSI) Architecture PC.
The project's zinc-rich urethane primer and aliphatic acrylic polyurethane intermediate coat provided the building's exterior cast iron with resistance to abrasion, corrosive fumes, and extreme weathering. The fluoropolymer finish coating in both solid and metallic colors was specified for its ultraviolet (UV) light stability, long-term durability, and aesthetics. In the author's experience, the life expectancy of fluoropolymer coatings is two to three times greater than traditional polyurethane coatings.
Another solvent-based coating system favored by New York specifiers for cast-iron exteriors uses two coats of a modified polyamidoamine epoxy, a suitable foundation for an aliphatic acrylic polyurethane topcoat for resisting abrasion, wet conditions, corrosive fumes, and exterior weathering, Gonnella said.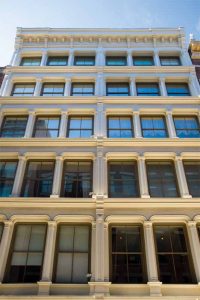 "A significant amount of time, effort, and hard work goes into restoring cast-iron architecture that is very old and often in a state of terrible disrepair," he explained. "This is why landmark projects like those in New York's cast-iron historic districts require long-lasting coating technology that provides protective and aesthetic performance."
Both the 54 Bond Street and 77 Mercer Street restoration projects received warranties from the coating manufacturer based on variables such as surface preparation, method of application, and the performance characteristics of the coatings specified.
Conclusion
The 19th century left New York City with a remarkable legacy of cast-iron architecture. This style has experienced a renaissance in recent decades with the restoration of several landmark buildings in the city's historic districts. Restoring these 150- to 160-year-old landmark buildings is a major endeavor. In addition to rusting and damage of the façade's decorative metal, a close inspection often reveals hidden conditions such as broken connections anchoring cast-iron assemblies to the building and points of leakage. The scope of work often requires the removal, replication, and reattachment of thousands of cast-iron and sheet metal features treated with high-performance primers and coatings in order to maximize long-lasting protection and aesthetics.
Jennifer Gleisberg, CDT, LEED GA, is the inside sales manager, eastern region, for Tnemec Company, where she provides sales support to Tnemec's independent sales representatives. She is a National Association of Corrosion Engineers (NACE) coatings inspector (Level I Certified) and a member of the Society of Protective Coatings (SSPC) and the U.S. Green Building Council (USGBC). With more than 10 years of experience in the coatings industry, Gleisberg brings a customer service perspective to architectural projects requiring coating solutions. She can be reached at gleisberg@tnemec.com.