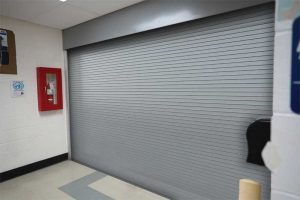 More than 352,000 students have experienced gun violence at school since the Columbine massacre in 1999.1 Millions more go to school worried they will be next, and entering a prison-like atmosphere with windowless rooms and metal detectors does not help. So, how do architects and designers increase protection without breaking the budget or exacerbating the already enormous psychological toll placed on students?
Beyond crime prevention through environmental design (CPTED), one concept that has come up repeatedly is "hardening" schools by incorporating walls and barriers. This concept originates in the security industry and refers to a greater level of impenetrability of physical elements, such as walls and doors.
By specifying ballistic-rated glass, designers can reinforce windows and glass doors without reducing natural daylight. This helps students connect with nature and brings light into the classroom, while reducing energy costs. Walls can also be hardened with materials, such as blast-resistant sheetrock, masonry, or reinforced concrete, making them more difficult to physically break through or penetrate.
The challenge with hardened materials, however, is finding the right balance across all building materials and products. If one specifies an expensive ballistic-rated entry door and uses a standard drywall opening, then the assailant can shoot right through the drywall; or worse, break through the wall and enter a classroom or office.
Further, while these reinforced glass, door, and wall products work, they can be incredibly expensive, placing them out of reach for many public-school district budgets. Therefore, many architects and designers place increased focus on reducing the overall points of entry and emphasize the use of high security materials on the school's vestibule. Since ballistic-rated glass and hardened building materials are not feasible throughout an entire school or campus building, securing the main point of entry for staff, students, and visitors is a sound investment.
Simply installing a double-door system can greatly enhance security layering and screening. The ability to electronically lock down the outer set of doors also greatly improves response times during an active shooter situation.
These "fishbowl" rooms consist of a small entry point in a fortified location, and the visitor must gain access through the receptionist who may sit behind a thick glass window and use a pass tray system for ID verification. If there is an emergency, the receptionist can hit a panic button triggering counter shutters to come down at the face of the reception window, protecting the office.
Further, if a shooter or assailant tries to move past the lobby or entryway, a high security rolling door can be automatically deployed with the push of a button or automatic alarm. These nearly impenetrable doors may look like a standard rolling door from the outside, but the robust steel curtain features interlocking slats that compress when in the closed position to create a smooth surface reducing potential pry points.