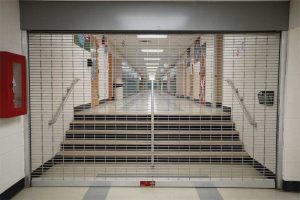 If the attacker tries to pry open the door, the interlocking slats engage further to prevent separation and make the door even more durable. These products also feature reinforced bottom bars and a discreet locking system that thwarts the ability to lift the door. While the attacker is distracted by the door, exterior vestibule doors can be locked—effectively trapping the assailant in the lobby until the authorities arrive.
If an attacker does breach the double doors, as they have in previous tragedies, there should be second-level security that combines both active and passive measures. Public-facing staff in the entry lobby should be protected with bullet-proof or ballistic-resistant glass—an active measure. Building products such as walls, should be reinforced with blast-resistant sheetrock, masonry, or reinforced concrete—another active measure. Cameras, sensors, and scanners are passive measures which should be installed to contribute to the overall security of a school.
Secretary and administrator desks should also be equipped with emergency communication technology, including duress alarms. These systems allow school staff to rapidly, and sometimes discreetly, summon emergency assistance by pressing a button. While panic buttons are reactionary, they make it easier for school staff to notify police and call 911.
Beyond these hardened materials in the entryway or lobby, designers have created concept schools that incorporate curved hallways, serpentine corridors, and natural barriers to prevent an active shooter from firing in a straight line. Within safe spaces, adding hiding spaces and cubbies, and meticulously spaced classrooms that lock on demand, are additional design tactics to combat would-be attackers.
Compartmentalize to neutralize
One of the biggest design considerations architects typically must address are the dual issues of egress and fire safety. Fortunately, there are multiple and varied code requirements that designate the "rules of the road" for architects to keep occupants safe. The challenge for designing specifically for school shootings is twofold.
First, there is an absence of code-driven guidance specifically to design for hostile events within schools. Second, common sense tactics that can protect students can conflict with existing code requirements. For example, one popular tactic to protect students is compartmentalization, or shutting down hallways and sections of schools to minimize the ability of a threat to move freely throughout the building, or even escape.
The challenge is compartmentalization must not interfere with egress requirements which stipulate that any occupant must be able to exit the building
in an emergency. However, this does not mean compartmentalization is not achievable while meeting existing building codes.