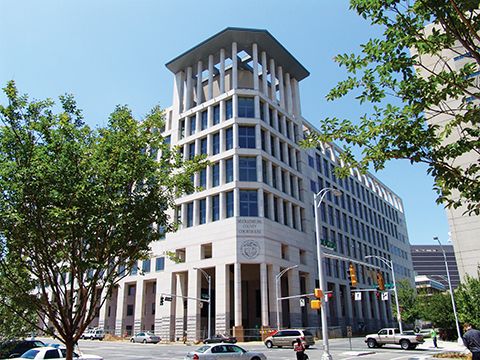 Protection starts with specifications
UFGS provides templates for specifiers working on DoD projects, both new construction and major renovations. Section 08 51 13 ("Aluminum Windows") is applicable to one type of blast hazard-mitigating fenestration product, and is employed as an illustrative example herein. UFGS is developed and prepared per criteria and standards established in UFC 1-300-02 "UFGS Format Standard," dated 1 April 2014.
In addition to non-blast-related specification criteria, UFGS Section 08 51 13 includes minimum antiterrorism performance requirements, validated by one of three methods:
static equivalent design approach;
alternative dynamic method of design; or
shock-tube or open-arena testing per ASTM F1642 at a laboratory accredited specifically for blast testing.
While minimum loading parameters for air-blast testing are provided in UFGS Section 08 53 15 as 40-kPa (5.8-psi) peak, 285-kPa.msec (41.1-psi.msec) impulse, these may not be adequate for the charge weight and standoff distance applicable to a given project. This can be a source of some confusion among specifiers. Also, as noted, UFGS allows only minor departures in size and configuration between tested windows and those to be used for any given project. For each combination of pressure and impulse, a minimum of three identical specimens is required by ASTM F1642.
UFGS-required submittals include design data such as calculations prepared and signed by a registered professional engineer, as well as air-blast test reports. The latter is only included when it is employed as an alternate validation method.
For project delivery, many military projects require the use of the SpecsIntact system for creation and maintenance of specifications to be included in bid documents and contract documents. This automated system for preparing standardized facility construction specifications is a NASA software product, developed and maintained under the Information Management Communications Services (IMCS) at the Kennedy Space Center. SpecsIntact uses MasterFormat 2010 and includes functionality such as project entry, management, tracking, automatic updates for latest specifications, revision redline feature, and automated PDF and Word publishing with integrated bookmarking.
GSA requirements
Requirements for other government agencies' buildings—courthouses, offices, and essential facilities—are often based on the U.S. General Services Administration Inter-Agency Security Committee (GSA-ISC) Security Design Criteria for New Federal Office Buildings or Major Modernizations. GSA is the manager of thousands of federal properties; of the 1.2 million employees whose workspace is provided by GSA, approximately half are housed in buildings owned by the federal government and the others housed in separate leased facilities.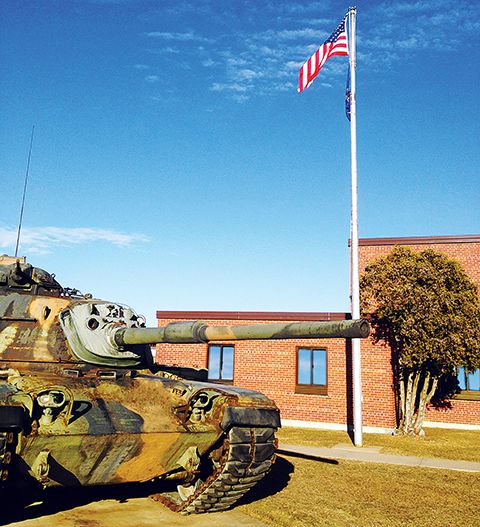 Blast hazard mitigation design requirements determined by GSA-ISC Security Design Criteria are often more stringent than those determined by UFC 2013, since GSA buildings located on a typical commercial site often lack the controlled perimeter of a military facility. Threat assessment for GSA facilities is an involved, complex, and often confidential process beyond the design team's scope. This is especially true when responding to GSA solicitations for development of leased space, which may only call for "shatterproof" glass or the application of films.
It is important to clarify expectations of GSA or the agency to occupy the lease space before finalizing fenestration product specifications.
Inelastic dynamic structural analysis typically is used for framing design, based on peak pressure in kPA (psi), impulse in kPA.msec (psi.msec), and Performance Condition as defined in the GSA-ISC. Framing is designed so glass develops its full design structural capability.
As for military buildings, determination of peak pressure, impulse, and Performance Condition (to include Hazard Condition and Protection Level) for GSA buildings is the responsibility of the owner's security/blast consultant—not that of the window manufacturer or installer. Design parameters typically range from 27.6-kPA (4-psi) peak and 193.1 kPA.msec (28 psi.msec) impulse, up to 68.9-kPA (10-psi) peak and 613.6 kPA.msec (89 psi.msec) impulse or more.
Given these design parameters, all calculations should be prepared by a registered professional engineer directly contracted by, or in the employ of, the window manufacturer or the glazing subcontractor. Calculations from other projects, non-representative test results on other systems, or other qualitative analysis generally are unacceptable substitutes for project-specific calculations.