AAMA 510-14
The American Architectural Manufacturers Association (AAMA), working in conjunction with interested stakeholders from the public and private sectors, has developed AAMA 510-14, Voluntary Guide Specification for Blast Hazard Mitigation for Vertical Fenestration Systems.
This publication addresses many of the issues that arise when writing project specifications for blast hazard-mitigating windows, curtain wall, and storefronts—especially for those buildings not under U.S. Department of Defense (DoD) or General Services Administration (GSA) jurisdiction, but still desiring blast hazard-mitigating design. It also provides definitions, a comprehensive list of references, representative test specimen sizes and configurations, forms for product certification, excerpts from Unified Facilities Criteria (UFC) 4-010-01, "Minimum Anti-terrorism Standards for Buildings" (UFC 2013), GSA-ISC and ASTM F2912, Standard Specification for Glazing and Glazing Systems Subject to Air-blast Loadings, as well as other useful information.
It is available via www.aamanet.org/general/1/45/publication-store.
Prescriptive requirements, used in conjunction with inelastic dynamic structural analysis, helping ensure compliance with the GSA-ISC often include, but are not limited to:
limiting rotation of any framing member supporting laminated glass when under load;
keeping all framing member stresses to less than or equal to full Yield Strength (Fy) for the alloy and temper used;
sizing and designing anchors and connections with ductile failure modes to exhibit stresses less than or equal to Ultimate Strength (Fu);
designing masonry anchors in concrete to fail before their substrate splits, spalls, pulls out, or has a bearing failure; and
providing the registered professional engineer with statistically valid survey data verifying design strength of in-place concrete or other masonry substrates, including the lower limit of the confidence interval to be used by the manufacturer in structural calculations.
In cases where connections' failure mode is non-ductile, the code or manufacturers' allowable design values must be used.
Anchors cannot be connected to a building's columns, unless specifically shown on architectural and structural drawings, and approved by the building's engineer of record against the potential for progressive collapse. If welded connections are used at windows, sub-frames, or other connections, the weld shall never be the weakest point through which loads are transferred back to the building structure.
As in UFC 2013, in addition to blast loads, all components must be designed to satisfy applicable code requirements for adequate glass support, wind, and gravity loads.
As a specifier, mixing UFC 2013 and GSA-ISC criteria in the same project specification needs to be avoided.
Impact loading from the inside and outside
Stronger, stiffer glass can have a significant effect on structural design of the window framing used to support it. This is because framing design must be based on the glass makeup actually being employed, not on some minimum acceptable makeup meeting blast requirements. Some of the applicable programmatic or code-mandated requirements leading to the use of stronger, stiffer glass include:
bullet-resistance (ballistic glass);
hurricane impact requirements in coastal areas;
tornado resistance;
vandal deterrence;
breaching and forced entry;
human impact resistance in psychiatric or behavioral care occupancy; and
detention applications.
Many of these added requirements apply to DoD and GSA buildings, or other facilities designed with blast hazard mitigation in mind. Many are considered essential facilities requiring enhanced protection, as defined in ASCE 7-10, Minimum Design Loads for Buildings and Other Structures, for Risk Categories III and IV. Examples include large hospitals, utilities, public safety buildings, and storm shelters.
Conclusion
Since windows and curtain walls encounter the extreme pressure released by an explosive mass, all elements of the assembly work together. Modern, blast-mitigating assemblies are intended to be flexible and absorb blast energy, creating elegant, quiet, daylight-filled, environmentally responsible, and safe buildings.
Experienced window and curtain wall manufacturers and blast consultants can interpret the lexicon of blast hazard mitigation, and design for safety and cost-effectiveness. Whether undertaking blast-hardened re-cladding of an existing building, hazard-mitigating replacement windows, or a modern all-glass façade for a new building, it can be especially helpful to use their technical expertise from inception through completion.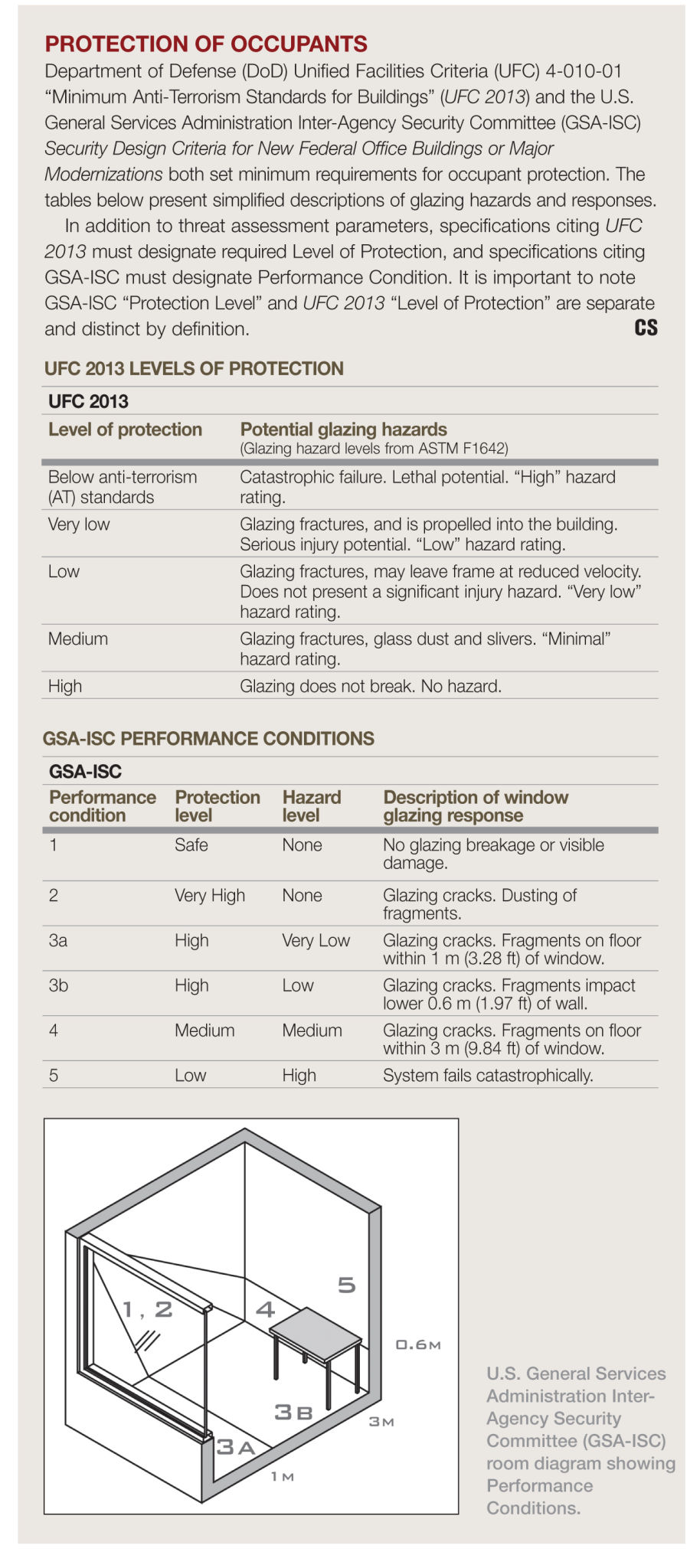 Tom Mifflin serves as Wausau Window and Wall Systems' governmental and military market manager. He works closely with architects and specifiers to assist with their window system selection and design. Mifflin is involved with high-security and blast-mitigating window systems for new construction and renovation projects, such as base realignment and closure and energy-improvement projects. He draws from more than 20 years of experience interpreting the government facility standards and security design criteria to ensure windows or curtain wall are capable of meeting the specified level of protection. Prior to Wausau, Mifflin worked as a design engineer for a government subcontractor working on classified projects for the Naval Facilities Command (NAVFAC). He can be contacted at tmifflin@wausauwindow.com.