Early skyscrapers
People have always built large structures as a means of expressing power and wealth, frequently pushing the limits of technology. Fittingly, the first large architectural applications for stainless steel were in the tallest buildings in the world: New York City's Chrysler (1930) and Empire State (1931) buildings. Although the former was only the tallest building in the world for a few months, its elegant, glittering stainless steel art deco styling has made it an enduring, internationally recognized, example of elegant skyscraper design. Both buildings have been awarded LEED Existing Buildings (EB) Gold status by the U.S. Green Building Council (USGBC). The two structures' minimal stainless steel replacement has been the result of modifications, hurricane damage, and other issues unrelated to the material's performance.
The introduction of metal and glass curtain wall design in the early 1950s revolutionized tall building design. Stainless steel was used for many of the early prominent building designs including the Socony Mobil Building (1954) and Chicago's Inland Steel Building (1958). By the 1960s, stainless steel was regularly being used for high-profile architectural applications around the world, so there are many project examples with longer than 50 years of service.
Japanese temple
The first coloring methods for stainless steel were introduced in the 1970s, and were developed for durability. For example, the electrochemically colored shingles on Reiyukai Shakeden Temple (Tokyo) have had no change in appearance since they were installed in 1975.
French museum
La Géode, which opened in 1985, is a geodesic dome with an exterior covered in 6433 mirror-finished Type 316 panels that holds an Omnimax theatre in Parc de la Villette at the Cité des Sciences et de l'Industrie in Paris, France. The largest science museum in Europe, it was designed by architect Adrien Fainsilber and engineer Gérard Chamayou. It is 36 m (118 ft) in diameter and reflects the sky.
Singapore racetrack
The Singapore Racecourse in Kranji was completed in August 1999. The design architect, Philadelphia-based Ewing Cole, wanted the curved, 400-m (1312-ft) long grandstand roof to remind visitors of the graceful movement of a powerful racehorse in motion. Its undulating curves were achieved with a standing seam roof made of Type 316 (UNS S31600, EN 1.4401, SUS 316) stainless steel. Heavy year-round rainfalls are common in Singapore. The owners wanted a durable, long-lasting roof that would remain attractive with minimal maintenance.
"We did not think twice about using stainless steel, because it is a corrosive, tropical island environment," explained the design firm's John Chase. "Stainless steel roofing is widely used in Singapore for that reason."
The architect of record was Indeco, a Singapore firm.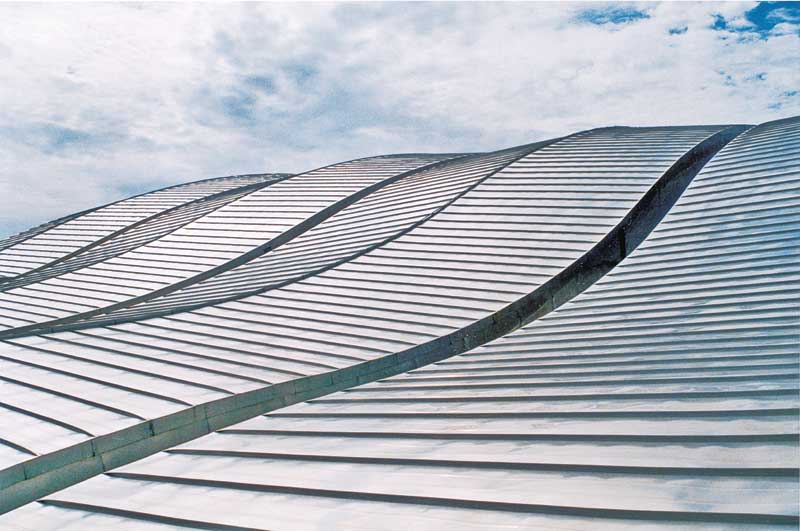 Recent projects
The world's leading architects have continued to use stainless steel for relatively traditional curtain wall, sunscreens, elegant store interiors and transit buildings around the world. Type 316/316L is the preferred exterior stainless steel because of the corrosiveness of the typical service environment with 2010's One Canada Square in London, England (Cambric finish), being an excellent example of durability.
Some have had regular maintenance and others had none, but they look unchanged in appearance. All illustrate the exceptional performance and cost-effectiveness of stainless steel as an architectural design material and its appeal for sustainable designs where long-term performance is expected.
Home to more LEED-rated buildings than any other city, New York is in the midst of a construction boom. Sustainable residential buildings of all sizes are using Type 316L stainless steel on their exteriors, including 245 10th Ave, HL23, Beekman Tower, 50 West Street, 56 Leonard, American Copper Buildings, and Central Park Tower.