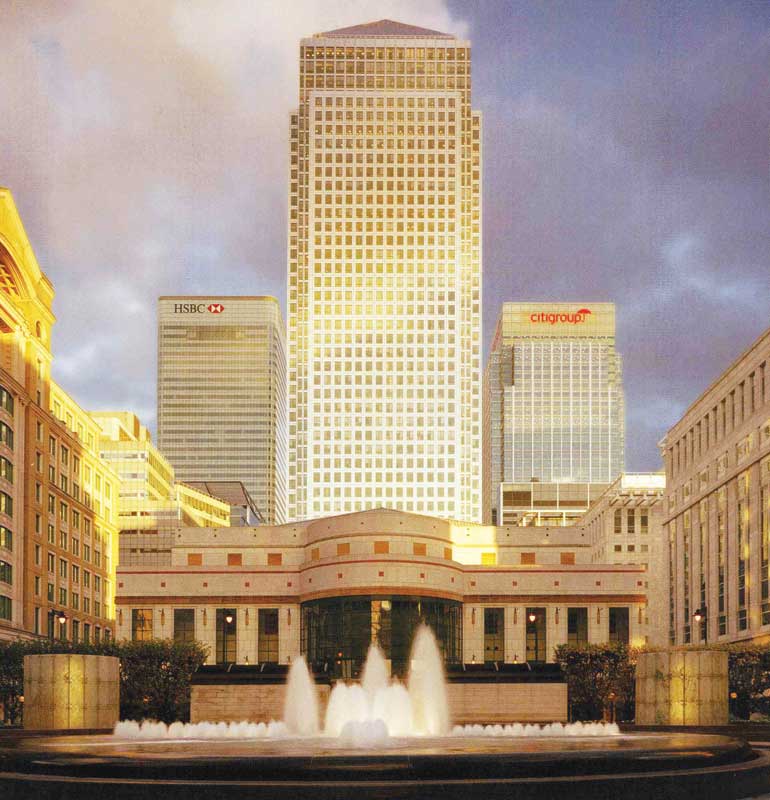 One example, Via (625 West 57th St) is the first building designed by the Danish Architecture firm BIG (Bjarke Ingels Group) in North America. Nearing completion, the 709-unit building faces the Hudson River. The Durst Organization carefully vetted the materials and all aspects of construction with consideration of their impact on the environment. Type 316L was selected for both the façade and the custom structural sections supporting the cleaning system because of the building's deicing salt exposure adjoining the Joe DiMaggio Highway.
There are also many interesting new Type 316L-clad office towers in New York, including the LEED Gold-rated 7 Bryant Park and International Gem Tower, but the largest concentration of stainless steel façades is around the World Trade Center, where Type 316L visually connects the buildings' diverse design styles while making them more sustainable and resilient.
Although it is the smallest building in the complex, the National September 11 Memorial Museum Entry pavilion needed a very special finish for the Type 316L rainscreen.
"We created a subtle rhythm by alternating #4, #3, #4 with glass bead, #3 with glass bead and a custom Main Steel satin finish," said Bill Zahner (of the eponymous architectural metal and glass engineering firm, Zahner). "Gloss readings were taken of each and we worked with Snøhetta (arSnøhetta to arrive at the combinations that are now on the building."
The LEED Gold-rated One World Trade Center opened in 2014. Its 1776-ft (i.e. 541-m) height coincides with the year the Declaration of Independence was signed, making it the tallest building in the Western Hemisphere. Type 316L supports the podium's glass fins, accents the glass tower's façade corners (a proprietary 'laser' finish), and also forms the 6-ton spire (6.35-mm [1⁄4-in.] plate).
Rogers Stirk Harbour + Partners' Three World Trade Center will be completed in 2018. The 80-story, 329-m (1079-ft) building will be clad with Type 316L in a proprietary 'linen' finish, and has been pre-certified to LEED Gold.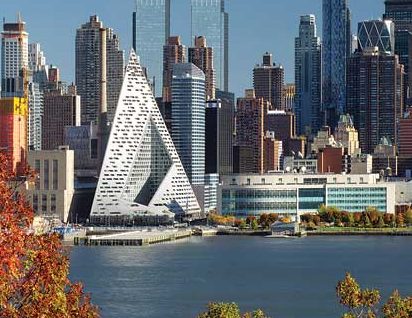 Restoration and reuse
New York City's Chrysler and Empire State Buildings are both excellent examples of the ability to restore stainless steel to its former glory. Both structures have been cleaned approximately every 30 years, with considerable surface accumulation of dirt and grime between restorations. A similar case is New York City's Socony Mobil Building (150 East 42nd Street), constructed in 1954 and adjoining the Chrysler Building. It was cleaned for the first time in 1995 after over 40 years of service.
All three buildings were cleaned with a mild detergent/water solution containing a degreaser to remove hydrocarbon deposits and a fine abrasive where necessary to remove more adherent surface deposits. No aggressive or environmentally hazardous materials were required, nor any products emitting hazardous fumes. Similar solutions are used on buildings with more frequent cleaning regimes. These buildings exteriors have corrosion resistance equivalent to Type 304. With increased deicing salt use, New York has become more corrosive and the lower levels of these buildings must be cleaned regularly or coated. Today, Type 316 or an equivalent stainless is being used in new projects in New York for added corrosion resistance.
Conclusion
Whole-building life cycle analysis tools and databases finally make it possible to fully assess building performance and achieve more sustainable designs. To minimize the building footprint, the materials should be capable of lasting the life of the project with minimal maintenance. This can make stainless steel a suitable candidate.
With many examples of stainless steel projects exemplifying long service life, Type 316/316L is the primary alloy being selected for long service life applications in the corrosive exterior environments that exist in much of the world, though more corrosion-resistant stainless steels like 2205 are also available.
 STAINLESS SCULPTURES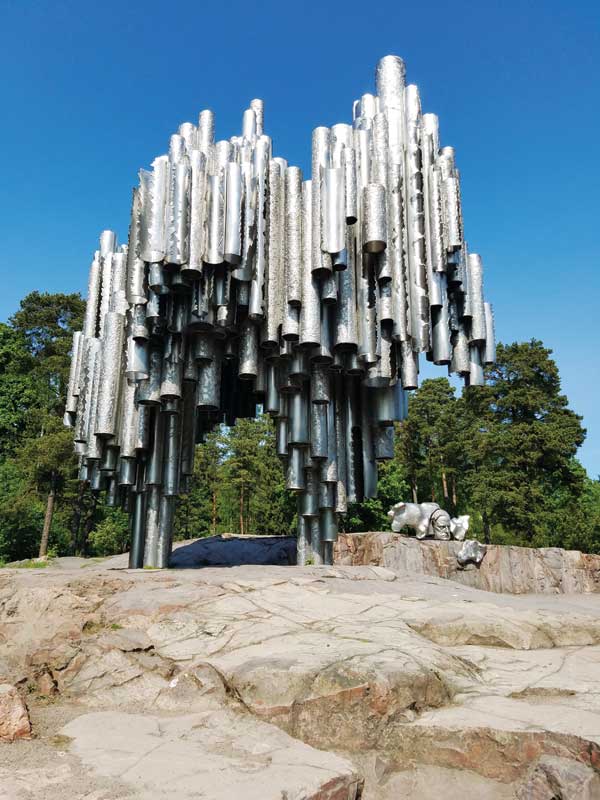 Over the ages, sculptors have sought materials that can withstand the elements and last for generations. The use of stainless steel in New York City's 1930s-era buildings inspired sculptors. Isamu Noguchi convinced the Associated Press to approve stainless steel instead of bronze for his famous sculpture News—an Art Deco plaque depicting five journalists 'getting a scoop,' which has been installed above the entrance of 50 Rockefeller Plaza since 1940. This famous 9.1-ton relief, 6.7 m (22 ft) high by 5.2 m (17 ft) wide, was the world's first large cast stainless steel sculpture. Unfortunately, more corrosive stainless steels were not available at the time, so the Type 302 (equivalent to today's 304) is clear-coated.
In 1947, architect Eero Saarinen and structural engineer Hannskarl Bandel revolutionized the world's concept of large sculpture when their design for St. Louis' 192-m (630-ft) Gateway Arch was selected. The Arch, with its Type 304 stainless with a No. 3 polish exterior, was completed in 1965, and made stainless steel the preeminent material for large sculptural applications around the world. It remains the world's tallest monument and a recent inspection by the author for the US National Parks Service found it to be structurally sound, but in need of cleaning to remove industrial pollutants and superficial deicing salt staining at the base.*
One of Helsinki's most important landmarks, the Jean Sibelius monument designed by Finnish artist Eila Hiltunen, honors the composer and violinist. Unveiled in 1967, its 600 hand-textured silvery tubes of various diameters reflect the changing seasons and resonate with the wind echoing bird song. Since this is a coastal city, Type 316 stainless steel was selected and it has performed beautifully. The tubes are up to 8.5 m (28 ft) in length and the sculpture weighs 24 tonnes. A smaller version of the sculpture can be found at the United Nations Educational, Scientific and Cultural Organization (UNESCO) headquarters in Paris.
As coloring methods for stainless steel became available, they were initially used for elaborate murals in Japan. However, in 1992, Frank Gehry realized the potential for large sculptures. He created a gold, electrochemically colored Type 316 stainless steel fish sculpture (56 m [184 ft]) long and 35 m [115 ft] wide) for Barcelona that seems to want to jump into the blue waters of the Mediterranean.
Stainless steel's history of exceptional long-term performance and low maintenance has made it a preferred material for sculptures. Some recent examples include:

Dublin's Monument of Light (2003, coastal location)—a 121.2-m (398-ft) Type 316L stainless steel spire;


Washington's U.S. Air Force Memorial (2006, deicing salt) with three curving Type 316L spires up to 82 m (270 ft) in height;


Mongolia's stainless-steel-wrapped 40-m (131-ft) tall sculpture of Genghis Khan on horseback (2009); and


Chicago's bean-shaped Type 316L Cloud Gate (2004, deicing salt).
These stainless steel designs capture the world's imagination and will be appreciated for generations because of appropriate stainless steel selection.
* For more, see this author's paper, "Gateway Arch Stainless Steel Weld and Surface Discoloration Evaluation," which was delivered in a plenary session as part of the Gateway Arch Inspection, Mid-Century Modern Materials, and Preservation symposium presented by the National Park Service in St. Louis last year.
Catherine Houska, CSI, is a senior development manager at TMR Consulting. She is a metallurgical engineering consultant specializing in architectural metal specification, restoration, and failure analysis. Houska is a long-term member of the U.S. Green Building Council (USGBC), and chairs the ASTM E60.80 General Sustainability subcommittee. She has authored more than 190 publications, including several features for The Construction Specifier. Houska will receive the Technical Document Award at this year's CONSTRUCT & the CSI Annual Convention. She can be reached via e-mail at chouska@tmr-inc.com.