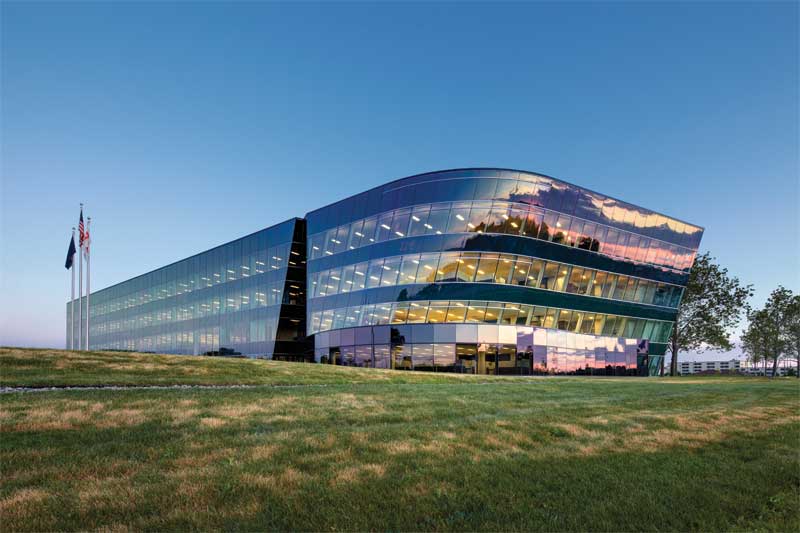 Ably meeting the heat (and cold) exchange challenge
Despite its many advantages, aluminum has one significant limitation for fenestration systems. On its own, the highly conductive material transfers external temperatures to the internal space unless it has a thermal barrier—
a low-conductivity material placed to reduce or prevent the flow of energy between the building's interior and exterior. Thermal barriers are also effective in reducing condensation on the interior aluminum frame.
Thermal barrier systems have been in use for decades, but advancements in their development offer even greater insulating factors. One option involves polyamide systems, in which two separate aluminum extrusions are created and preformed, with fiberglass-reinforced polyamide strips inserted into the profiles. The aluminum extrusions are knurled so these 'teeth' bite into the inserted strut, and then crimped.
Another strategy involves poured-and-debridged polyurethane barriers—single aluminum sections are separated by the insulating material, typically polyurethane in composition. The void in the aluminum extrusion is filled and the extruded bridge is removed to eliminate metal-to-metal contact.
Determining the ideal U-factor (i.e. heat transfer) and solar heat gain coefficient (SHGC) for a fenestration system in a specific building location is important in selecting the appropriate thermal barrier system. Properties to be considered when choosing a thermal barrier include:
tensile strength;
elongation;
impact resistance;
thermal conductivity;
flexural modulus (i.e. tendency for the material to bend);
adhesion properties; and
heat deflection temperatures. (For more info, see American Architectural Manufacturers Association [AAMA] Technical Information Report [TIR] A816, Structural Performance of Composite Thermal Barrier Framing Systems.)
It is important designers understand that external environmental factors, such as exposure to ultraviolet (UV) light, water immersion, humidity levels, temperature extremes, thermal cycling, and cyclic bending (i.e. stresses from positive and negative wind load reversals) affect aluminum differently than other substrate types. Care should be taken to study these factors when making design choices.
The geographic location of a particular project determines the minimum thermal performance of an aluminum fenestration system. The International Energy Conservation Code (IECC) sets the minimum energy efficiency provisions for both residential and commercial buildings. The requirements vary by region, based on the climate. During the design process, manufacturers and design engineers can use thermal modeling or computerized simulations of a fenestration system to determine whether the product will meet the U-factors required for the project.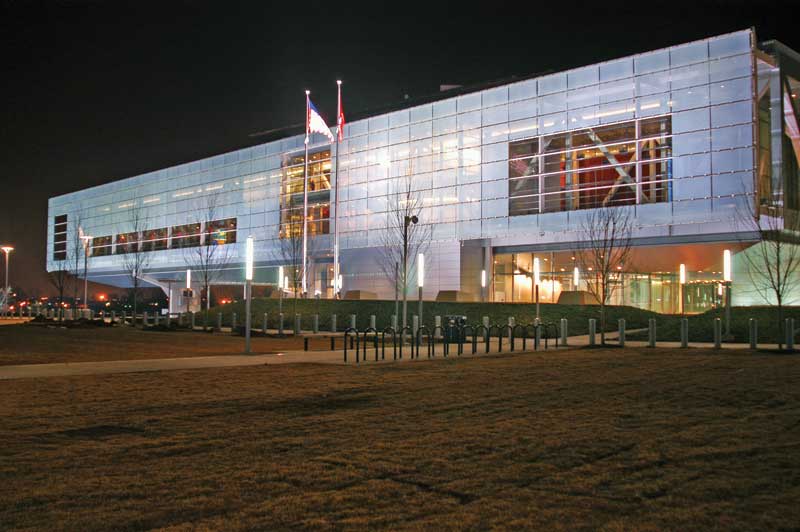 Integration of renewable energy devices, such as aluminum-framed building-integrated photovoltaic (BIPV) devices used in façades and on rooftops, may help achieve even more energy efficiency and are likely to become more prevalent in the future.
In addition to providing energy efficiency by limiting thermal conductance, daylighting can be enhanced through window systems designed to maximize interior lighting while limiting solar gain or cold transfer. Aluminum framing offers the strength to support larger glazed expanses with narrow sightlines. Additionally, the material provides the flexibility for designers to include, when appropriate, windows that can be manually or automatically opened and closed to promote fresh airflow.
Daylighting has been shown to benefit the health and productivity of occupants. Of the top five healthy building features expected to be used more frequently over the next five years, enhanced air quality, products improving thermal comfort, and better lighting/daylighting exposure lead the list. (Check out Dodge Data & Analytics' SmartMarket Report, "The Drive Toward Healthier Buildings 2016: Tactical Intelligence to Transform Building Design and Construction," by visiting www.engineering.com/Portals/0/Stories/14871/Drive_Toward_Healthier_Buildings_2016.pdf.) Each of these factors can be directly and positively affected through the use of aluminum fenestration systems in construction.
Aluminum windows certified to a performance grade of AW are tested to a higher pressure with less allowed leakage for improved air quality and potentially lower HVAC requirements.
Stronger substrates may be able to have thinner profiles, which allow for increased daylighting, particularly in fixed windows.
Use of thermal barriers can lead to better energy efficiency and increased natural daylighting, saving on the energy needed for artificial lighting and HVAC systems, as well as promoting a more comfortable thermal environment for workers. Thermal barrier technology continues to develop, using glass, glazing, and envelope materials to reduce commercial building energy consumption.