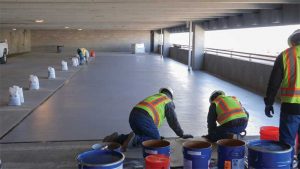 Speeding the construction cycle
Top among the reasons cited for going with a PMMA/PUMA system is the fast cure. Though a multicoat system, the layers need only 45 minutes to an hour for cure between coats. A parking garage often can be coated and returned to service in a day or less, depending on job and crew size.
Cold weather tolerance is another key feature of PMMA/PUMA-based coatings—it can be applied in temperatures as low as –18 C (0 F) with the use of a cold-weather catalyst at temperatures below –6 C (20 F). Unlike urethanes, PMMA/PUMA system cure time is unaffected by temperature or humidity because cure is activated by a catalyst alone.
Durability is key
PMMA/PUMA systems are also durable and have tenacious adhesion to most substrates. Some systems have recorded values as high as 1730 kPa (251 psi) when tested on concrete, according to ASTM D7234, Standard Test Method for Pull-off Adhesion Strength of Coatings on Concrete Using Portable Pull-off Adhesion Testers. They are more chemical resistant than other waterproofing membranes and do not deteriorate when exposed to petroleum products, grease, animal fat, and similar materials. PMMA and PUMA have tear strengths up to 445 N (100 lbf) and tensile strengths up to 11,721 kPa (1700 psi), depending on the manufacturer. The durability and strength of these systems translate to longer warranty terms, with some manufacturers offering more than 20 years for certain applications, including a guarantee against wear under normal conditions.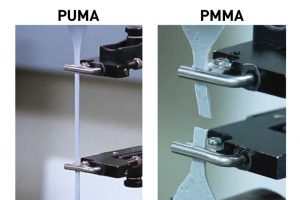 Compared to standard overburden options such as pavers, tile, and/or concrete, PMMA/PUMA systems are lightweight, even for the most toughest vehicular applications. A heavy-duty system with aluminum oxide as the aggregate weighs about 1 kg (2.5 lb) per square foot, less than concrete pavers, for example, that average more than 9 kg (20 lb) per square foot.
For those concerned with aesthetics, strength does not preclude beauty with PMMA/PUMA systems. They can be customized by adding any color to a tint-able base to create the desired topcoat hue. Quartz or color flakes can also be added under a clear topcoat for a decorative look.
A fast flashing alternative
A PUMA system offers advantages as a flashing for use with hot rubberized asphalt waterproofing. The PUMA primer and basecoat are easier to work with than hot rubber, especially when flashing low heights and detailing penetrations. They cure quickly, and no reinforcing fabric or protection course is used. Contractors can detail the whole job the day before they bring in the hot rubber, without additional priming.
Drawbacks
Odor may be considered a drawback of PMMA/PUMA systems. Although they are environmentally friendly with zero volatile organic compounds (VOCs), they emit an odor until the product has cured. However, cure time is short, and smell can be controlled with good ventilation practices. Odor is nonexistent once the product cures.
PMMA/PUMA technology systems can be up to five times more expensive (depending on the manufacturer and specific system) than standard urethane coatings. However, contractors save money on labor with jobs turned around in a fraction of the time and without the need for kettles and safety equipment required for hot-applied applications. Property owners and managers also appreciate the ability to quickly repair and reopen areas like parking garages to traffic, often the same day, as well as the considerable reduction of maintenance and repairs down the road.
Additionally, owners can expect to double the length of their warranty with a PMMA/PUMA system. While warranties for standard urethanes are around five to 10 years depending on the manufacturer, PMMA/PUMA warranty terms can extend up to 25 years—again, this depends on the manufacturer, specific application, and system used. PMMA/PUMA system warranties for below-grade applications include guarantees for watertightness and vehicular traffic coating applications. Some manufacturers even warrant wear of the system, which is unheard of for traffic coatings.