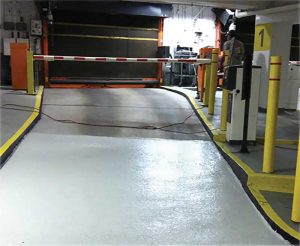 For projects where PMMA/PUMA seem ideal, but costs exceed the budget, an option would be a hybrid system that includes a combination of urethane and PMMA/PUMA coatings. In a parking garage, this could mean PMMA/PUMA in the highest wear areas such as helical turns, ramps, and ticket spitters and urethane for drives lanes and parking stalls. The hybrid approach provides optimal performance, and some manufacturers would provide a longer-term warranty than for a straight urethane system.
Installation protocol
One-hour cure times translate into shorter working times for PMMA/PUMA technology coatings. Due to this reality, they should be installed by trained contractors with experience handling these materials, as the ability to work quickly is paramount. The good news is that some manufacturers also offer labor and material warranties on systems installed by applicators they have trained and approved.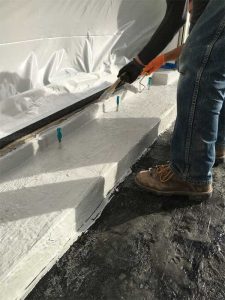 The basic installation procedure (following substrate moisture validation and surface preparation) is the application of PUMA primer and basecoats and the topcoats. For vehicular and heavy-duty traffic applications, at least one additional wear coat is needed prior to applying the topcoat. Each layer requires the mixing of the catalyst with the wet material to ensure proper curing. Spiked rollers are used to de-train air from the thick system layers (typically the base and/or wear coats where applicable) that may have been created during the mixing process. The final step is to broadcast aggregate into the wet wear or topcoat to ensure a skid-resistant surface. The area can be opened for normal use (including vehicular traffic) one hour after the topcoat is installed and the system is fully cured.
For PMMA/PUMA waterproofing applications, substrate moisture validation and surface preparation is followed by primer and then the waterproofing membrane. PMMA systems require a layer of fleece at this stage and an additional resin coat.
A case in point
Plaza Park is a large parking garage located in a busy section of downtown Indianapolis serving the nearby JW Marriott, Lucas Oil Stadium, and the Indiana Convention Center. An existing polyurethane coating system had degraded more quickly than expected, and the owner was looking for a solution that would hold up better to the constant abuse associated with heavy traffic as well as the effects of deicing salts and other road contaminants, particularly in the areas of the main entrance ramp and ticket spitter. Since it is a revenue-generator for the owner, the garage could not be completely shut down during work.
Looking for a solution offering extreme abrasion resistance, proven long-term performance, better elongation properties, and quick turnaround, the engineer chose a PUMA technology system. A job that otherwise would have taken several days to complete was finished in just a day. The installing contractor was able to shift traffic to one side while the other was being coated so the garage remained open during work.
Conclusion
For projects where quick turnaround is a must for the owner or contractor and/or where superior durability and abrasion resistance are desired, the specifier should consider a PMMA or PUMA system. It is pertinent to keep in mind a PUMA technology system will always outperform PMMA in projects where exceptional crack bridging is needed or a high degree of movement is anticipated. As the cold weather approaches, signaling the end of construction season for urethane and other liquid-applied coating technologies, it is worth pointing out contractors can continue to install PMMA and PUMA systems that can retain their fast-cure property even at low winter temperatures.