by Richard Martens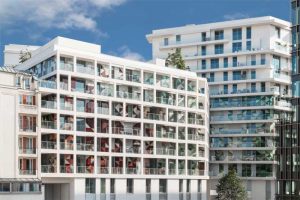 The term rainscreen is widely used to describe a building products category that fulfills one of the main functions of an exterior wall—to screen out rain and keep a wall dry.
What makes up a rainscreen? How is it defined, and what are its components? Moreover, what can be expected from a rainscreen wall?
Wikipedia describes a rainscreen as "an exterior wall detail where the siding (wall cladding) stands off from the moisture-resistant surface of an air barrier applied to the sheathing (sheeting) to create a capillary break and to allow drainage and evaporation. The rain screen is the siding itself but the term rainscreen implies a system of building."
Consider some historical interpretations of a rainscreen wall.
In 1990, Madeleine Rousseau, a well-respected research officer at National Research Council Canada (NRC) described a controversy over the difference between a drained cavity wall and a rainscreen wall (read "Facts and Fictions of Rain Screen Walls" by Madeleine Z. Rousseau, MRAIC, in Construction Canada [March/April 1990]).
"Now a heated debate on terminology usually starts!" she noted. "Usually, the debate cools off when the expression 'pressure-equalized' is used."
Rousseau went on to illustrate a compartmented wall with a 115-mm (4 ½-in.) cast concrete air barrier behind each compartment. Cast concrete is seldom used as an air barrier these days, and pressure equalization has lost favor as a means of controlling bulk water intrusion. However, the principles of rainscreen walls outlined by G. K. Garden in his influential 1963 article, "Rain Penetration and its Control," in the Canadian Building Digest remain relevant and provide guidance to modern exterior wall design (for more information, read "Rain Penetration and its Control" by G. Kirby Garden).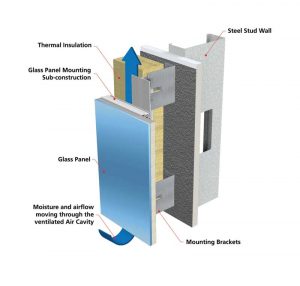 "Rain penetration results from a combination of water on a wall, openings that permit its passage and forces to drive or draw it inward," noted Garden. "It can be prevented by eliminating any one of these three conditions."
Garden further defined six forces that drive or draw liquid water into a wall system. They are:
Kinetic energy (driving rain);
Capillarity (water moving by capillary attraction);
Gravity;
Wind pressure;
Pressure differences; and
Pressure differences + capillarity.
Garden regarded pressure equalization as a means of controlling the forces driving or drawing liquid water. He maintained both water on the wall and openings permitting water's passage would always be present.
Much has changed since Garden and Rousseau conducted their research. Construction has become more complex, new materials have come into widespread use and cost pressure on building design has intensified. There have also been substantial advances in building enclosure design.
Arguably, the most significant innovation has been the widespread use of continuous air barrier systems.
Rather than focusing on pressure equalization, an air barrier "is a system of building assemblies within the building enclosure designed, installed, and integrated in such a manner as to stop the uncontrolled flow of air into and out of the building enclosure,"(consult the Air Barrier Association of America).
This addresses one of Garden's three conditions (openings permitting passage of water) and controls a factor he did not describe. Air moving through a wall assembly brings water with it in the form of humidity, leading to potential condensation and associated deleterious effects. Now required by code, an effective air barrier system is fundamental to every wall design.
Two of Garden's forces involve capillary action.
Wikipedia defines capillary action as "the ability of a liquid to flow in narrow spaces without the assistance of, or even in opposition to, external forces like gravity."