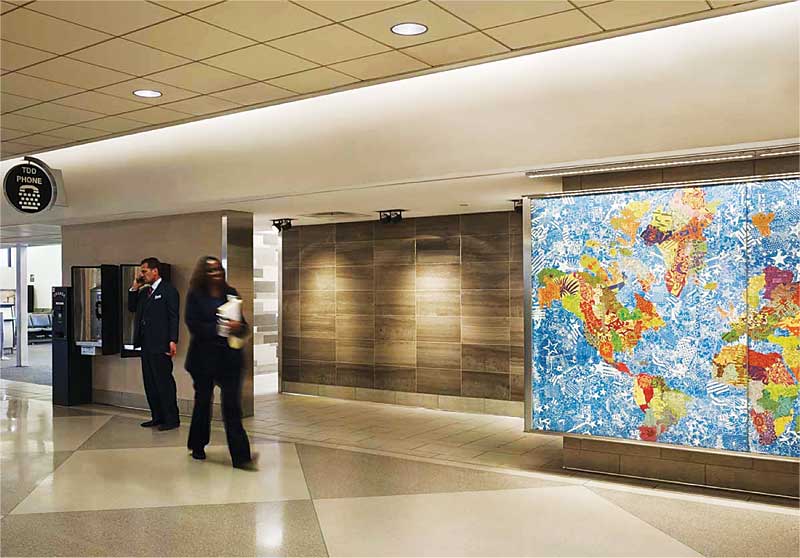 Primary design challenges, liabilities, and objectives
Facilities striving for inclusivity have several strategies at their disposal when adopting a multigenerational approach to restroom design. Floor plans and equipment layouts should include modified turning radiuses, reach ranges, and mounting heights, as well as safe egress and eased navigation. Multigenerational design also affects social issues, including gender equity and 'potty parity'—a phrase defined as equal or equitable provision of washroom facilities for both genders within a public space, including gender-neutral and family-inclusive restrooms.
Greater access to restroom facilities for all demographics also requires greater privacy, as well as elder- and child-care accommodations. It should have amenities allowing proper child care through specialized, purpose-built products such as child protection seats and baby-changing stations.
The process of implementing such multigenerational accommodations is wrought with challenges and potential liabilities for both the specifier and owner. These challenges include accommodating physically limited individuals, such as disabled children and seniors. The Individuals with Disabilities Education Act (IDEA) mandates public schools provide baseline accommodations for disabled children. To meet these regulations, designers must adhere to parameters such as the inclusion of ramps, disabled parking, and restrooms with wheelchair-accessible compartments and lowered sinks.
Children in particular have special consideration for hygiene amenities promoting public health and reducing the spread of bacteria. Heights must also be adjusted for partitions, sinks, mirrors, urinals, and towel dispensers. Safety fixtures such as grab bars are essential for older users, who are increasingly prone to physical stiffness, loss of strength, dementia, and aches and pains, which can result in increased risk of falling.
For designers seeking more inclusive and better- equipped multigenerational restrooms, four primary sets of objectives can be identified.
Privacy
How can all users be provided with sufficient privacy to feel comfortable?
Accessibility and bariatrics
How can appropriate codes and requirements, including the Americans with Disabilities Act (ADA), be met to accommodate the needs of all people, large and small?
Child care.
Can caregivers with children address child-care needs while maintaining access to all features of the restroom?
Hygiene.
Does the design help reduce maintenance while providing an easily cleanable, healthy environment?