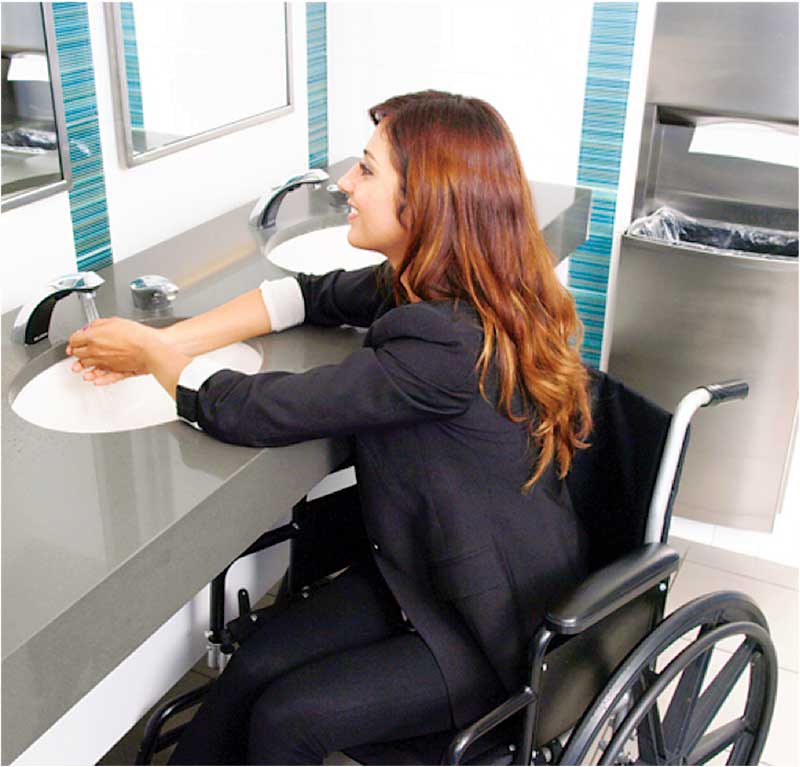 ADA-compliant equipment
Designers striving for ADA compliance should specify specialized equipment that allows for accessibility by all users while also ensuring proper mounting heights and reach ranges. Often, as mentioned previously, exceeding ADA standards is necessary.
In 2010, the Laboratory for Efficient and Accessible Design (LEAD) conducted research on people aged 18 to 88 living in a multigenerational community. The study showed the factors that most limit a person's ability to function include:
overall strength;
bending, stooping, and kneeling;
walking;
standing;
using the hands to grasp or move objects;
sitting; and
seeing and hearing.
(The Legacy Project summarizes this research at www.legacyproject.org/legacycenter/transmultigendesign.html.)
Thus, even small components like doors, faucets, and steps can pose significant challenges for disabled or obese individuals and children or for the elderly.
Consequently, hardware, including door locks and toilet-flushing mechanisms, should be easily operable by a wide range of users—in many cases, touchless equipment may be preferred. Many restroom accessories are designed to be ADA-compliant, such as sensor-operated (and some manually operated) soap and towel dispensers and napkin/tampon vendors. These accessories are designed for one-hand operation with a force not to exceed 22.24 N (5 lb), without grasping, pinching, or twisting of the wrist.
ADA-compliant accessories must be installed with a maximum protrusion of 101 mm (4 in.), at heights between 686 and 2032 mm (27 and 80 in.) above the floor. Many recessed dispensers, waste receptacles, vendors, hand-dryers, and baby-changing stations are also designed specifically to meet the 101-mm protrusion requirement.
Obesity and bariatric considerations
A national increase in obesity may also influence restroom design. The National Institutes of Health's (NIH's) 2007 report, "Forecasting the obesity epidemic in the aging U.S. population," states that "As the baby-boom generation approaches retirement age, the continuing obesity epidemic signals a likely increase in the population." Accordingly, multigenerational design must accommodate the needs of large and heavyweight users by adhering to bariatric minimums as outlined in ADA guidelines. Multigenerational bathrooms should ideally anticipate bariatric requirements such as toilets with increased weight capacity and toilet seat heights between 432 and 482 mm (17 and 19 in.) for ease of standing. Reinforced grab bars should be able to hold at least 340 kg (750 lb).
Finally, to eliminate hazards and risk of falls, any toilet compartments, such as those often found in healthcare settings, should be equipped with zero-threshold doors, which prevent tripping and allow easy passage of those using walkers or wheelchairs. Recessed countertop waste receptacles, hooks, and shelves should be used not just for convenience, but also to eliminate hazards such as bags on the floor.
Child care
Numerous surveys have signified an increased demand among parents for child-care amenities in public restrooms. For example, a 2014 survey by Today found 54 percent of fathers with infants change their babies' diapers, compared with just 37 percent in the previous generation. In October 2016, the Bathrooms Accessible in Every Situation Act (or the BABIES Act) came into effect, requiring baby-changing tables in all publicly accessible federal buildings.
For businesses, the ability to serve parents with children is a key consideration in multigenerational restroom design. In addition to more gender-equitable restrooms and layouts, a wide variety of baby-changing stations can address the needs of parents with infant children, including wall-mounted recessed models as well as surface-mounted horizontal and vertical orientations.
Baby-changing station beds and countertop surfaces must be a maximum of 863 mm (34 in.) from the finished floor when open. Additional accessibility compliance requirements include handle heights of no more than 1219 mm (48 in.), knee clearance of 686 mm (27 in.) minimum below the unit when it is open, and a maximum wall protrusion of 101 mm (4 in.) when closed. The unit may protrude into passageways if its leading edge is at or below 686 mm from the floor.
For guardians and nursing mothers, child protection seats mounted to a wall or partition—allowing guardians to comfortably secure their children while tending to siblings and other matters—also are recommended.