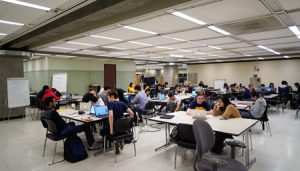 The University of California, Berkeley Library has selected architecture and design firm BNIM to help map out the next steps for the James K. Moffitt library. The firm will develop a design that will help lay the groundwork for the building's bottom three floors as the library completes its transformation into the Center for Connected Learning.
"BNIM brings the perfect blend of creativity and pragmatism to the design of the Center for Connected Learning," said Elizabeth Dupuis, associate university librarian for educational initiatives. "While BNIM's portfolio includes exemplary technology-rich and energy-efficient spaces, it was their team's integrated approach to crafting those designs with consultants and stakeholders that truly energized us."
BNIM has worked on more than 40 campuses of higher learning across the country, from Univery of California, Los Angeles (UCLA) to Princeton University. BNIM priorities for Moffitt are to usher the library into the digital age and create spaces that are relevant far into the future.