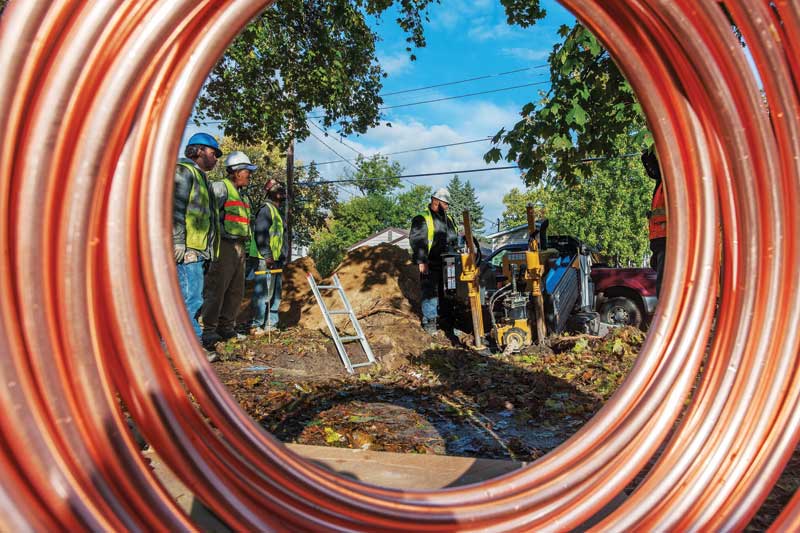 by Andrew G. Kireta Jr.
The country's drinking-water infrastructure recently received a 'D' on the American Society of Civil Engineers' (ASCE's) Infrastructure Report Card—a nearly failing grade due to the millions of pipes in need of replacement. Currently, thousands of communities across the United States are distributing drinking water through old lead service lines. As a result of the Flint Water Crisis that began in 2014, homeowners and municipalities around the country have awakened to the fact that maintaining water infrastructure is critical. The best way to improve aging infrastructure and to eliminate the risk of lead poisoning is to remove and replace all lead service lines.
A study by the American Water Works Association (AWWA) estimates there are about 6.1 million lead service lines in the ground across 11,200 community water systems, but the lack of real data could make this a conservative estimate. (To read the 2016 article, "National Survey of Lead Service Line Occurrence," click here.) As local officials, building owners, and taxpayers develop replacement strategies, they are making decisions that will affect the future. The cost of rectifying a bad decision can multiply drastically when digging up streets and lawns, shutting off water service, and disrupting customers' lives enters the equation.
Material options
Currently, there are two main replacement materials for lead service lines: copper and plastic. Many municipalities found the latter choice's low up-front costs alluring during the 1980s and 1990s when trying to keep pace with the construction boom. They turned to various plastic piping systems for underground water service line installations, causing copper's market share for this application to slip from 75 percent through the mid-1970s to 50 percent by 2000.
However, this trend began to change through the early 2000s as the building boom continued. Some utilities and municipalities experienced issues with leaks and loss of water in plastic service lines. By the end of the decade, copper once again accounted for 80 percent of all water service line installations in the United States.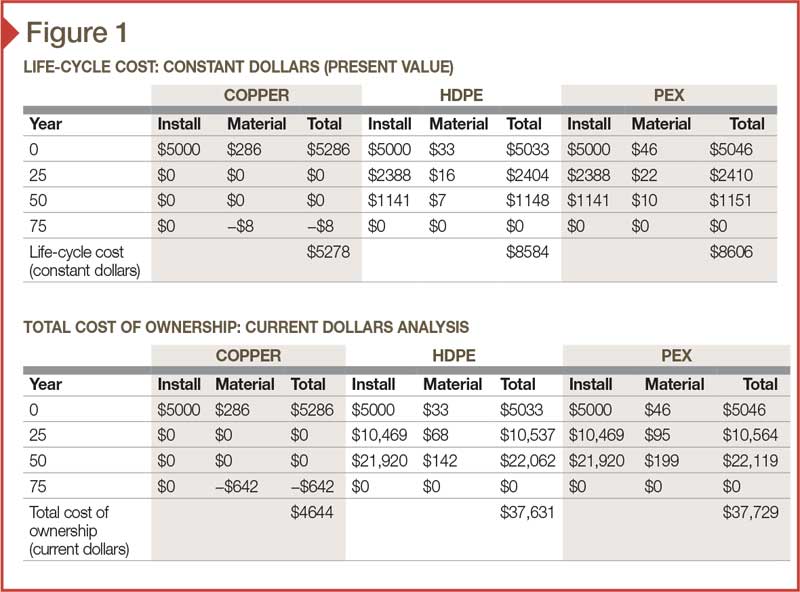 Although the cost of a copper pipe may be three times that of a plastic one, the material cost represents only about five percent of the cost of replacing an underground line, with most of the expense coming in the excavation process. Utility experience across North America shows copper delivers a 75- to 100-year lifetime of use, while plastics have shown a lifetime of approximately 25 years.  (To read "Underground Water Service Lines, Material Usage Trends: 1965−2009," by Irwin P. Sharp & Associates, click here.) Over the course of 75 years, the plastic system would need to be installed and then replaced twice, and the copper system would only have to be installed once.
Figure 1 shows a life-cycle cost comparison of copper versus two plastic service line materials over the course of a planned 75-year service term. The analysis uses the following assumptions:
installation cost is $5000 (this estimate is based on average service life cost);
pipe size is 19 mm (3/4 in.);
service line length is 19.8 m (65 ft);
pipe material costs per 0.3 m (1 ft) of pipe are:
– copper (Type K) at $4.40;
– high-density polyethylene (HDPE) at $0.50; and
– cross-linked polyethylene (PEX) at $0.70.
The inflation rate was set at three percent.