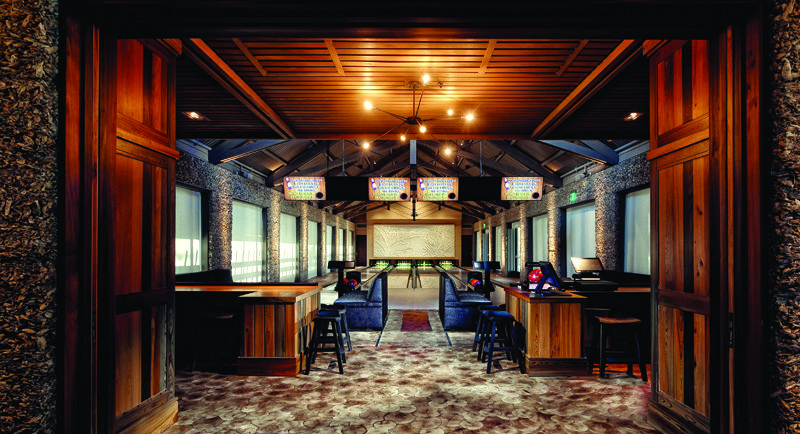 by Matt Cecere, AIA, LEED AP
A long, winding driveway in Bluffton, South Carolina, weaves through expansive maritime forest marshland full of live oaks and long-leaf pines before it opens onto the secluded Palmetto Bluff community. Residents and guests of Palmetto Bluff spend their leisure days enjoying lush, coastal scenery—kayaking in the marsh, birdwatching, biking, and hunting—and subtle hints of the area's history. During the Antebellum era, it was home to 21 plantations, and in the early 1900s, a wealthy East Coast couple purchased and transformed it into an elegant country escape for New England elites. Here, the old South and the glamor of a Gatsby-esque era blend with modern design, modern users, and a new approach to building techniques, especially in the use of wood.
In the mid-1930s, a paper company, which had purchased the land intending to clear-cut the forest, chose to leave Palmetto Bluff untouched because of its striking beauty. That commitment to land stewardship is still evident through the Conservancy at Palmetto Bluff, founded in 2003 with the mission to protect and maintain the ecological and environmental integrity of the lands. The conservancy has been instrumental in protecting hundreds of acres under conservation easements, ensuring historic wetlands are protected, and maintaining food sources and habitats for regional wildlife, while also allowing the land to be managed as a resource for hunting, fishing, and other outdoor recreation activities. Residents and guests can also participate in research and attend sessions about the findings.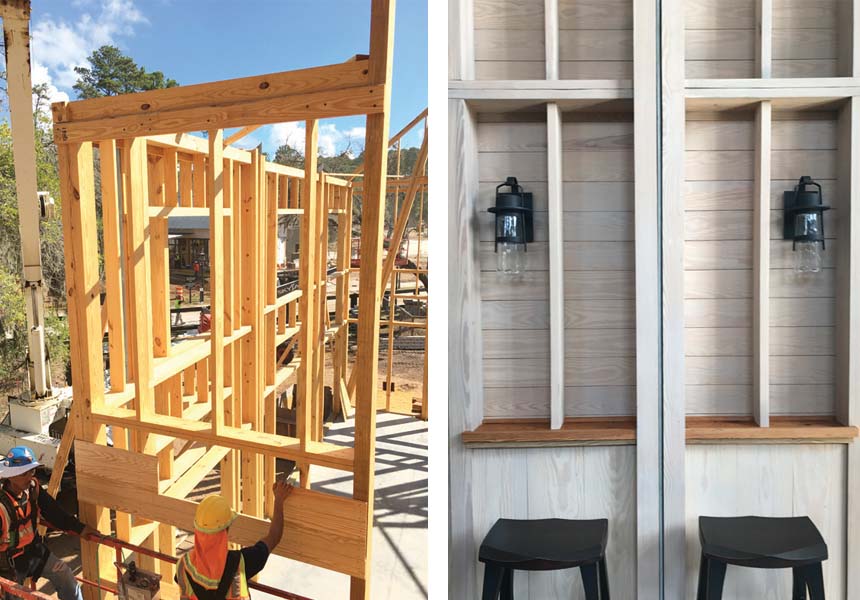 Aligning with a culture built around stewardship, and unique to the coastal region of South Carolina, the 'Lowcountry' style has a long history of influences. Stemming from native populations, Spanish explorers, and British-American settlers, Lowcountry architecture is a clear derivation of American colonial architecture, evolved over the past three centuries to address the site and climate. The quintessential building construction application in this region is known for directly responding to the ubiquitously swampy sites and subtropical climate. Constructed of timber frames on piers, buildings are elevated above the ground to keep dry and to induce ventilation from below. The roof forms maintain a simple, classical aesthetic with long overhangs to make room for deep, shuttered wraparound porches inviting in cool breezes and fragrant smells of the local flora, while protecting against violent storms.
Completed earlier this year, Moreland Village is a more-rural alternative to Palmetto Bluff's first neighborhood, Wilson Village. The first phase of buildout spans 240 ha (600 acres), including 500 homes spiraling out from a hamlet of commercial buildings at the village center. Organized more like a camp than a gridded town, these buildings straddle a central path winding through the village. There is an outfitters used as a jumping-off point for residents' outdoor adventures, the conservancy to teach more about the natural environment, and the Boundary, a clubhouse and social hub. Plans for future development phases include a real estate office, general store, and post office, which all connect to a great lawn and the maritime forest surrounding the village center.
As the Moreland Village project developed, the team—consisting of Crescent Communities, Choate Construction, Witmer Jones Keefer, and 4240 Architecture—worked closely with the conservancy to ensure the project aligned with the values of preservation at the core of the community. This effort was challenged by the harsh environment of coastal South Carolina, where forceful winds, heavy rains, and hurricanes can easily damage inadequately prepared buildings. These factors pushed the design team to find creative, project-specific solutions.