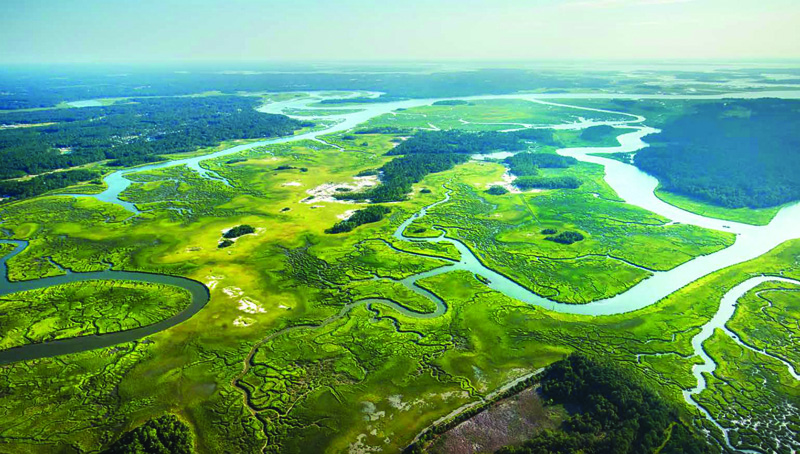 Lowcountry architecture and the Boundary
The Boundary provides a place to unwind and connect at the end of adventurous days, with a restaurant, bar, art loft, and amenity areas extending from a central lounge in the primary building. Considering unorthodox spaces such as the smokehouse, game room, bowling alley, and bike barn, the design team expanded its research beyond Lowcountry homes to consider several distinctly local types of historic structures as architectural precedents. These included:
smokehouses;
churches;
market halls; and
tobacco barns.
Elements from each of these were re-interpreted to suit contemporary programmatic needs while also exemplifying the intersection between seamless design solutions and environmental considerations.
The smokehouse
Taking cues from historical smokehouses (simple, solid masonry outbuildings with roof vents and ports for supply and exhaust air), the smokehouse at the Boundary is transformed into a display kitchen, timber-framed with a wraparound porch for guest dining. The structure uses a combination of preservative-treated southern yellow pine, ipe decking, and reclaimed heart-pine counters. Since all the wood connections needed to address wind-loading from hurricanes, fixed column-base connections were created to allow the structure to cantilever from the foundation. This solution affords completely open views of the marsh and great lawn through bronzed screens set in southern yellow pine frames.
The game hall
Similar to historic Southern ecclesiastic spaces, the game room features an exposed-wood structural system for the walls and ceiling. The primary wall structure is composed of flitch-plate columns, in-plane purlins, beams, and braces. The columns are 4x10s flanking 19- x 203-mm (¾- x 8 ½-in.) galvanized steel plates, which are welded to base plates bolted to the concrete foundation. Members spanning between columns vary in size from 2×4 to 4×8. All fasteners between the structural wall elements are hidden from view to give a clean, contemporary appearance.
The roof structure consists of partially exposed trusses with purlins and plywood sheathing. The trusses, composed of 3×8 heavy timber top and vertical chords, are bolted to heavy timber and 20-mm (¾-in.) steel rod bottom chords. These are topped with 4×10 southern yellow pine purlins. The flitch plates in the structural columns act as hidden tie-downs connecting the roof structure to the foundation.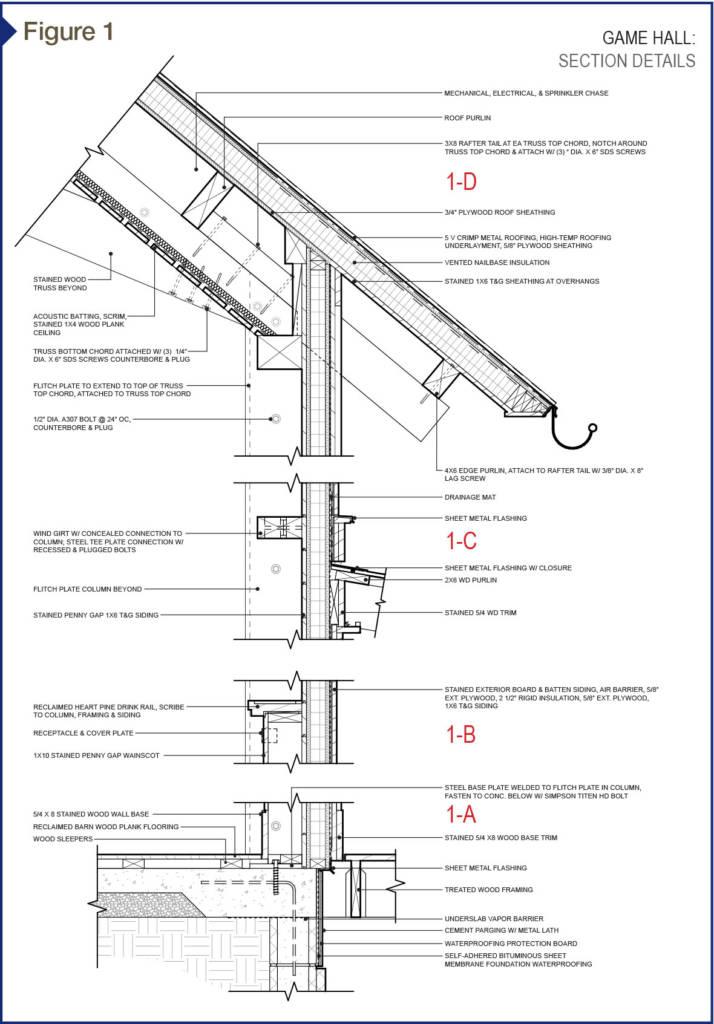 The exposed-wood wall assembly is uniquely built, with structure at the interior clad with insulation and both interior and exterior siding. This required special construction sequencing, in which each section of wall was framed, sheathed, and then craned into place where the flitch plate connects each panel. Once this was done, electrical raceways were run in conduits to junction boxes penetrating through the wall siding, then insulation, sheathing, air barrier, drainage board, and siding were installed. This creates a highly insulated wall with minimal thermal conductivity, effective breathability behind the siding, and a beautifully exposed wall structure at the interior.
Similarly, the roof structure is used to house electrical and mechanical systems above a dropped slatted acoustic wood ceiling, located at the bottom of the top chord of the roof trusses. As with the wall assembly, great care was taken by the design and construction team to coordinate all systems and ensure no fasteners, conduits, or ductwork were exposed. Above the structure is a vented nail base with high-temperature roofing underlayment clad in 5V crimp metal roofing.
All wood structural members are specified as Grade A or better southern yellow pine to create  a refined aesthetic void of knots or checks in the wood. Further, all structural and nonstructural wood members are stained with a specially formulated, water-based, semi-transparent stain low in volatile organic compounds (VOCs) to achieve a whitewashed appearance. A similar strategy for the exposed wall structure and dropped wood slat ceiling is found in all primary public spaces, such as the dining room, art loft, flex space, and lounge (Figure 1).