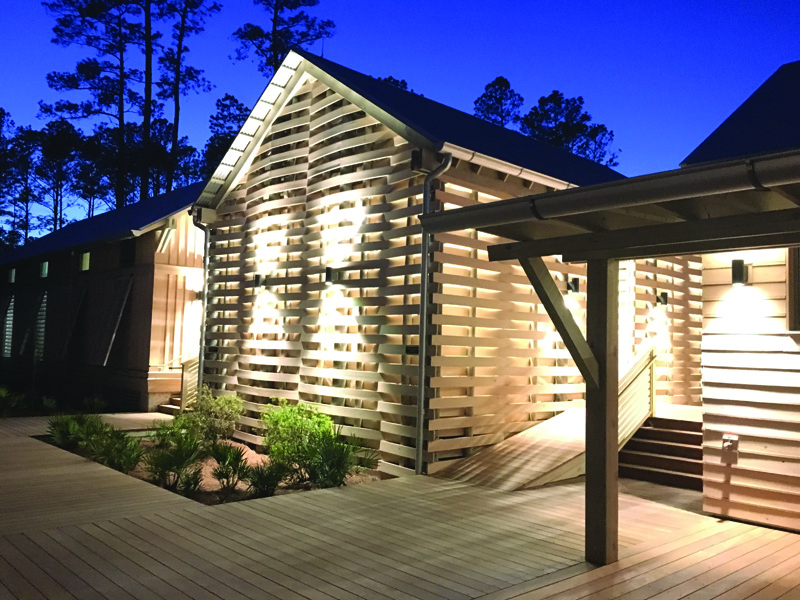 Structure
Southern yellow pine was used for all structural materials because it is cost-effective, native to the region, available in abundance, and has strong overall structural capacity. For all exterior wood applications, protection from termites, sun, sand, wind, and user wear and tear is key to the success and longevity of the project.
A mixture of G90-coated connectors and wood-preservative-treated southern yellow pine created a sound structure. The micronized copper azole (MCA) wood preservative treatment used for the project is more environmentally sound than the chromated copper arsenate (CCA) treatment used historically, but yields the same level of protection, because it is less corrosive to fasteners and hardware and can be in contact with aluminum. Copper bonds to organic matter in soil, becoming biologically inactive, and does not introduce toxins or other environmental impacts. Another benefit to this treatment is it has a more-natural brown tint than the CCA treatment's trademark green.
Siding
The natural setting of the building made using natural wood siding a key value of the project team. Considering the harsh environment, the team conducted extensive research into wood siding applications. Cypress has been used in the South for centuries, with a proven track record; however, various cedars and preservative-treated pines were also considered, because cypress harvested for siding in recent years is new growth, with large growth rings.
Failure in new-growth cypress is related to lack of cypressine oil and growth ring density. Cypressine oil is a natural insect repellant for the wood, and is found in larger quantities when the number of growth rings in the wood is greater than 15 rings per 25 mm (1 in.)—even better at 25 rings per inch. For this reason, old-growth cypress was used for siding in Moreland Village. In order to break down the scale of the buildings and develop unique formal expressions for each, the siding was installed in various arrangements derived and re-interpreted from traditional siding patterns. Lastly, the natural beauty of the old-growth cypress siding allowed the team to utilize a custom whitewash stain that provides some protection while allowing the beauty of the wood to show through.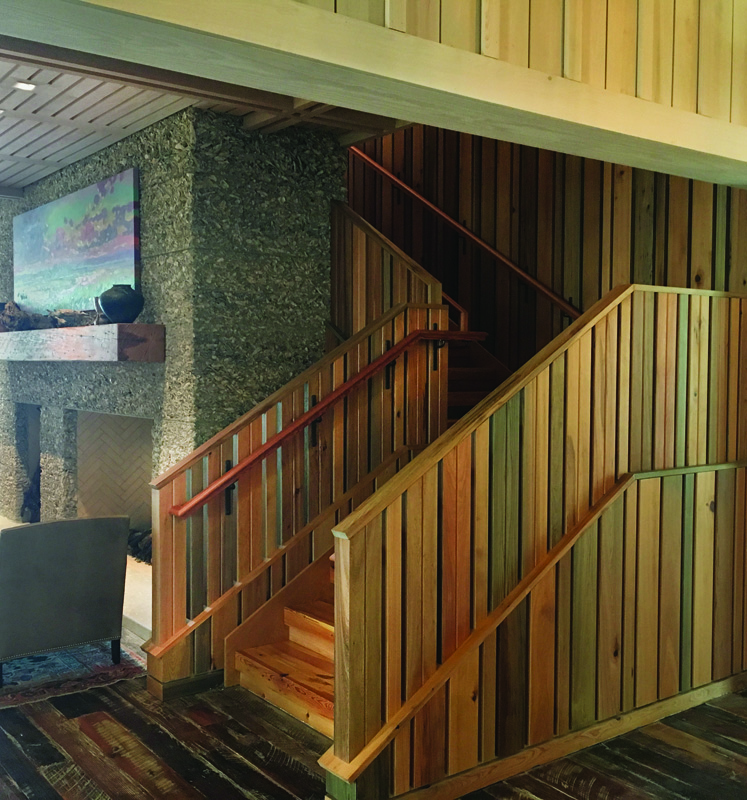 Decking
Considering the sophisticated elegance of the place, ipe decking was used for all decking areas—a standard throughout Palmetto Bluff. The 5/4×6 ipe decking is installed at all exterior floor applications with countersunk and plugged fastener locations. Unlike some other, more-contemporary fastening systems, the plugged fasteners add a sense of craft.
Interior wood finishes
In addition to using wood for framing, walls, and ceilings, there are a variety of wood siding treatments, flooring treatments, and casework used throughout the Boundary. Several species of wood native to the region are employed, including reclaimed sinker cypress, heart pine, and white oak repurposed as flooring, casework, and the feature staircase. The most unique wood species is sinker cypress (i.e. cypress submerged in waterways for decades or centuries, salvaged, and then milled). This wood has a distinct discoloration from mineral deposits saturated deep into the wood fibers, and was used at feature locations like the main stair, casework, and bar top (a complete sliced log with pewter inlays).
Finally, to tie the spaces together, reclaimed and repurposed wood flooring from old barns in Ohio is used throughout the building. The finish treatment for these wood floors is a unique process. First, the wood is laid in place with all the scars from its previous life still present, then it is covered in a uniquely formulated paint that fills all the nooks and cracks. Lastly, it is sanded smooth and finished with a clear protective layer.
The cross-cut wood floors used in the bowling alley provide a counterpoint to the reclaimed plank-cut floors in the rest of the building, consisting of reclaimed wood beams of a variety of species, including oak, beech, birch, pine, and cypress (Figure 4). Cross-cuts are 25-mm (1-in.) thick pieces scribed into semi-round shapes, which interlock like puzzle pieces. Once sanded and greywashed, they are clear-coated. Although this was the most labor-intensive wood installation in the project, the result is an extremely beautiful and unique wood expression.
This is an exciting new building that nods to the past while seamlessly embracing techniques and technologies of the 21st century, as well as maintaining sensitivity to the environment through material selection, treatment application, and integration of systems. All the innovations developed by the design team maintain the Lowcountry aesthetic essential to the place while addressing the various spatial and programmatic needs of a state-of-the-art facility able to last the test of time.

Matt Cecere, AIA, LEED AP, is a principal at 4240 Architecture, and has been an enthusiastic leader there for 17 years. He brings attentiveness and curiosity to all aspects of design. Sustainability principles, rigorous material research, explorations of tectonics, and integration of energy-efficient systems are consistently employed in Cecere's extensive history of crafting wood-framed and heavy-timber buildings. He has worked on projects such as visitor centers, welcome centers, and clubhouses in various regions of the country, including Colorado, California, South Carolina, and Florida. Cecere can be reached via e-mail at mcecere@4240architecture.com.