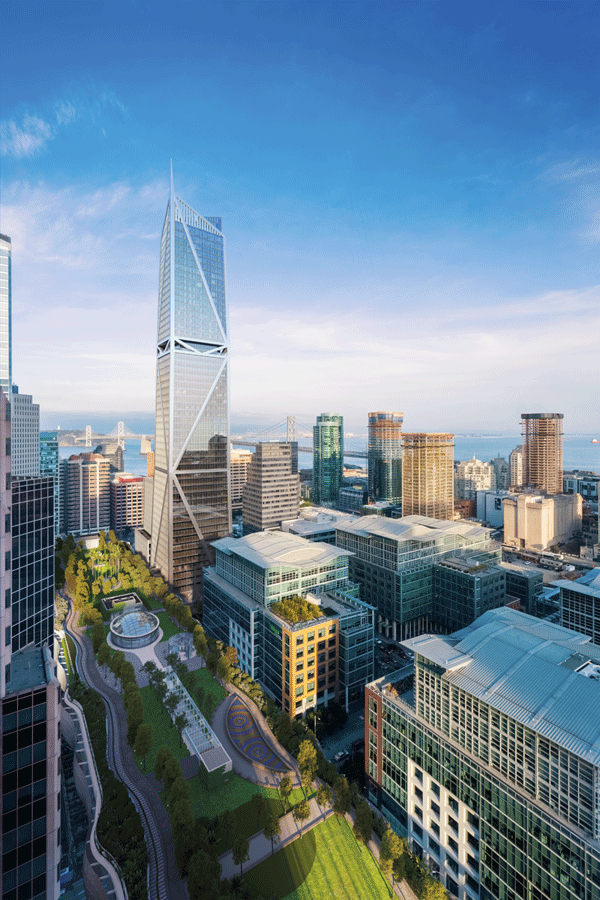 A unique mega-brace system is at the heart of a new 70-story mixed-use tower in San Francisco.
181 Fremont Street is a 244-m (800-ft) building that was designed to be resilient against structural damage in a 500-year earthquake. The steel and glass tower is anchored by construction shafts measuring more than 29 m (260 ft) down into the bedrock, allowing it to respond to wind forces and seismic events in an optimal way.
The tower's aluminum exoskeleton structural support system allows for column-free interior floor plans by behaving like a giant shock-absorber whenever there is seismic activity. A series of sub-foundation viscous dampers allow for the elastic superstructure, with plumbing and electrical lines given enough flexibility to move without disruption. Further, the building's foundation is able to 'lift' itself slightly to create additional space for movement.
Located at the cultural center of South of Market, the $665-million tower includes 40,134-m2 (432,000-sf) of Class A office space, 67 luxury condominium residences on the top 17 floors, and 279 m2 (3000 sf) of retail space. The tower is situated adjacent to the new Transbay Transit Center, with direct access to the 'Grand Central Station of the West.'
Exceeding California construction codes, 181 Fremont's design features can help safeguard lives, as well as ensure business continuity by allowing immediate return to the tower and for it to be fully functional within one month. Its elevator systems are also designed for continuous operation during a catastrophic event, with exclusive contingencies for emergency evacuation.
Residents of the condominiums on the top 17 floors of the tower would also be assured of minimal interruption in their quality of life due to the resilience-based design, which is focused on minimizing structural damage, property loss, and protection of mechanical, engineering and plumbing (MEP) systems, as well as the operation of building transportation.
"The seismic design is consistent with our approach to position 181 Fremont as the preeminent tower in San Francisco in every aspect of design and development," said Matt Lituchy, CIO of Jay Paul Company, the project's developer. "With a strong, unified visual appearance created by the unique structural exoskeleton and saw-tooth curtain wall, the tapering design of the tower will be an iconic presence on the city's skyline. This San Francisco residential tower pre-certified to Platinum under the Leadership in Energy and Environmental Design (LEED) program. It boasts innovative sustainability features, such as a water recycling system to reduce water consumption, a glass curtain wall to allow for maximum light and air for residents, regionally sourced building materials, and passive solar-energy-saving systems."