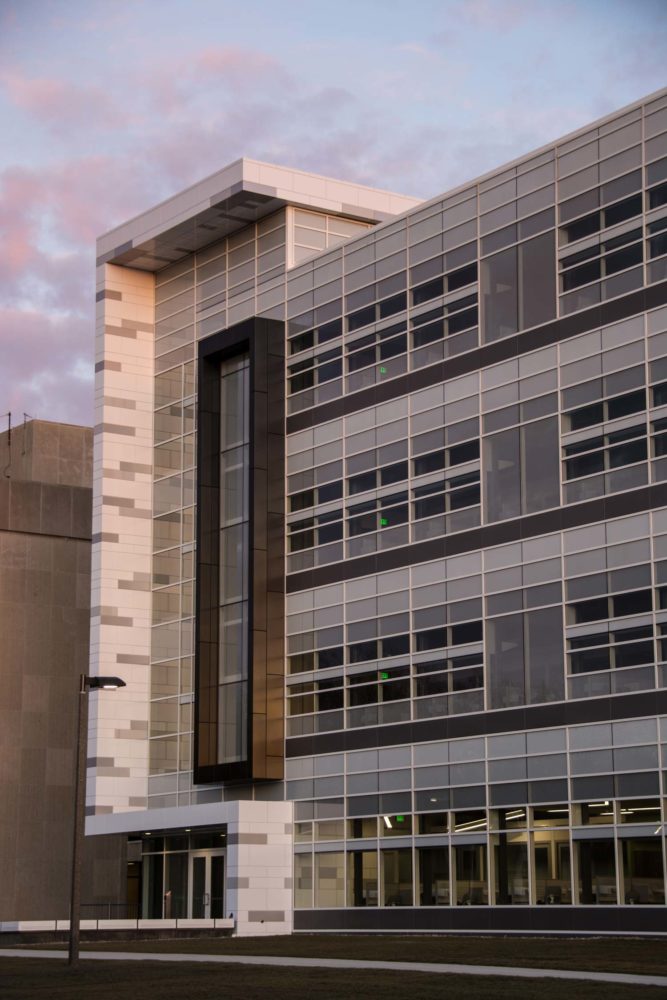 Melding aesthetics with performance was top of mind in the design of Michigan State University's (MSU's) new Bio Engineering Facility.
Located in the South Academic District in East Lansing, the four-story, 12,077-m2 (130,000-sf) research laboratory building features proprietary resins comprising 70 per cent polyvinylidene fluoride (PVDF) that meet or exceed American Architectural Manufacturers Association's (AAMA's) 2605, Voluntary Specification for Performance Requirements and Test Procedures for Superior-performing Organic Coatings on Aluminum Extrusions and Panels. The resins can protect against ultraviolet (UV) rays, chemical degradation, abrasions, and humidity. Further, they contribute to the project's longevity and reduce the need for maintenance throughout its lifecycle.
To complement the color palette of the surrounding buildings, the design team specified gray, white, and black glass and metal to distinguish the new facility from both the traditional red brick of the campus standard and beige of the cast concrete of more recent structures.
"The facility had to blend into the campus, tie into its surroundings, but also stand out as its own destination," said Kevin S. Marshall, senior associate and project architect for architectural/engineering consultants Integrated Design Solutions (IDS). "Getting the white just right was important. We wanted the white of the curtain wall and the metal panels to match. We didn't want one to look dingy or dirty compared to the other."
To support the project's green building goals, the design team ensured the resins used on the building's exterior contained no volatile organic compounds (VOCs), while the aluminum used to produce the curtain wall was extruding using a high recycled-content aluminum billet.
The facility's entrance systems and curtain wall feature 127-mm (5-in.)-deep back members and doors with continuous hinges and tie-rod assemblies that can be as durable as welded-corner construction, while allowing them to be modified, disassembled, or resized in the field for a precise fit.
A ribbon of tri-colored composite metal panels further defines the main entrances and complements the curtain wall. Black brickwork and stainless steel rainscreens carry the facility's color palette from exterior to interior.