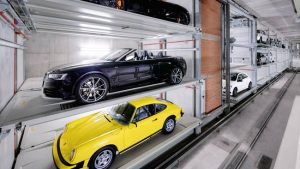 General contracting firm GLY Construction (GLY) plans to install a three-level, robotic, space-saving parking garage beneath the upcoming addition to the Seattle Cancer Care Alliance (SCCA) clinic.
The innovative design and parking experience seeks to address both infrastructure and patient needs. The garage will be built under a long, narrow 22,297-m2 (240,000-sf), five-story complex.
The robotic garage will be the first of its kind for any medical center in the region and the first of its size and scale on the West Coast.
Patients will be able to drop their vehicle off at a centralized valet who then transports the cars to one of the garage's six stories with robotic lifts and platforms that shift cars vertically and horizontally until they reach a designated spot. This system will be able to park cars closer together than traditional parking spaces, with about 160 to 180 total spots, while reducing the time and hassle of patients getting in and out of small, cramped, ramp-filled garages.
"We are excited about bringing this parking solution to the patients of SCCA that will hopefully make their experience accessing care a little bit easier," said Joe Walker, GLY project executive.
"This has been a tremendous planning process that included traveling with SCCA to two garages of similar size and scale—in Budapest, Hungary and Munich, Germany—where we confirmed our desire to move forward with this efficient, multipurpose solution."
The garage is intended to be flexible for future use, as it can be disassembled and reshaped for different purposes to accommodate needs for forthcoming services.