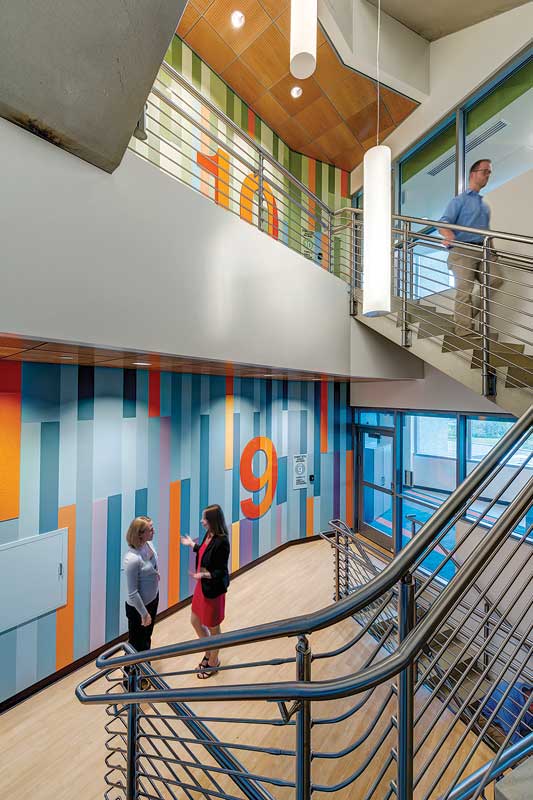 by Jeff Razwick
Fire-rated doors provide around-the-clock protection to help ensure people can safely exit a building in the event of a fire. When specified with fire-rated glazing, they can also help preserve sight lines and support aesthetic goals.
During a building fire, properly functioning fire-rated door assemblies play a critical role in providing occupants with safe means of egress. They allow individuals to pass by, or through, them without experiencing serious injury, and enable fire safety personnel to enter a structure and help extinguish flames and smoke.
Fire-rated door assemblies may service a building for years without being called into such action. As a result, it is important for them to support a building's daily functional and aesthetic needs. To ensure all goals are met, an increasingly popular design solution is to incorporate fire-rated glazing wihtin fire-rated door assemblies.
Fire-rated glazing may be clear and wireless, with
a surface quality comparable to ordinary window glass. It is available with fire ratings ranging from 20 to 180 minutes, and advanced products can provide supplemental performance benefits, such as impact and bullet resistance. With proper specification, fire-rated glazing can work in conjunction with its surrounding door components to defend against fire, while improving visibility, increasing daylight transfer, and furthering the building's aesthetic goals.
While this is typically not an overly complex process, building and design professionals may not be familiar with the nuances of this life-safety product. To help guide the process, this article offers seven questions to ask when it is time to specify fire-rated glazing in fire doors.
1. Where will the fire-rated door be installed?
The International Building Code (IBC) uses factors such as construction type, occupancy, and fire separation to determine fire-rated door specifications. As such, an important starting point when working with designs that call for fire-rated glazing in fire doors is 
to determine where the assembly is to
be installed. Examples of applications possibly requiring fire-rated doors include:
exit passageway walls;
exit enclosures;
exit stairways;
fire partitions; and
corridor walls.
Once the location of the fire-rated door installation has been determined, it is important to review the provisions set out in the applicable building code to identify which type of fire-rated glazing is best suited for use. The 2012 IBC lays out in a clear, easy-to-read table (i.e. Table 716.3), fire-rated glazing specifications for each type of assembly, including the required fire rating, type of fire protection (e.g. "fire protection" or "fire resistance"), applicable fire tests, and vision panel sizes.
Although IBC has made great strides in making its fire-rated glazing code provisions clear to readers, there may still be instances where questions arise. To avoid making a costly or dangerous mistake, one should contact the manufacturer, supplier, or code official for additional clarification. Many have the educational resources and tools available to help simplify the design and specification process.
2.  Is the door subject to temperature-rise criteria?
A crucial next step in the specification process is to determine whether a 
fire-rated door assembly is subject 
to temperature-rise criteria. Fire-rated doors tasked with meeting this stringent performance criterion are required
to protect against the spread of flames and smoke for their designated fire rating, as well as limit heat transfer from one side of the door to the other. This helps ensure occupants can still pass by a door to exit a building if temperatures reach high levels on the 'fire side' of the door. Doors providing this critical level of protection do so by preventing temperature rise on the non-fire side of the door assembly from exceeding 232 C (450 F) above the ambient temperature at the end of the first 30 minutes.
While design professionals can specify fire-protective glazing in doors with temperature-rise criteria, it is subject to area and size limitations under IBC. In instances where greater visibility and large glass sizes are desired in doors with temperature-rise requirements (as discussed in this article's Question 5), fire-resistive glazing is often specified. The glazing typically incorporates multiple layers of glass that sandwich an intumescent interlayer that turns opaque and foams up during a fire. This internal reaction allows the glass to carry fire ratings up to 90 minutes in door lites, and remain relatively cool on the non-fire-side of the glass for the duration of its fire rating. It is suitable for use in walls, doors, and other fire-rated assemblies where it is necessary to limit heat transfer.