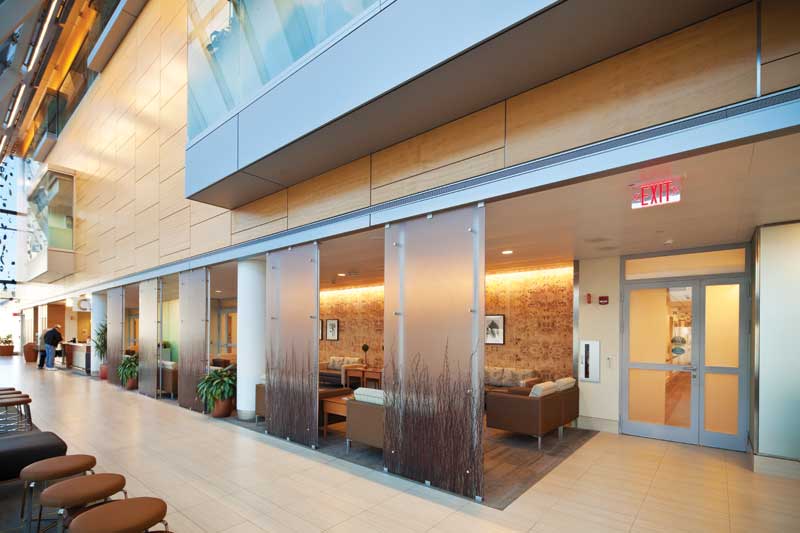 6.  Will the door be installed as part 
of an overall assembly?
To provide effective fire protection, fire-rated glass must be installed into an appropriately rated door and lite kit, surrounding frame, and fire-rated door hardware. If any of the door's components have a rating below the code minimum, the fire protection of the entire assembly is in jeopardy. For example, if a 20-minute fire-rated glass lite is installed in a 60-minute fire door, the glazing may fail prematurely during a fire and create a pathway through which flames and smoke can spread. To this end, IBC requires all components to have the same or greater ratings than the required code minimums for the opening.
7.  What are the aesthetic considerations?
Today, thanks to manufacturing advances, design teams can use fire-rated glass doors to further aesthetic goals while still ensuring people can safely exit a building in the event of a fire.
For example, while traditional hollow-metal steel fire door and frame assemblies can provide the necessary fire protection, the frame profile size, color, or material may not match neighboring windows and curtain walls. New-generation fire-rated steel frames can help overcome this challenge with their sleek aesthetic. Manufacturers form the frames in an extrusion-like process that results in thin profiles, well-defined edges (rather than rounded profiles), and vertical-to-horizontal framing joints without visible weld beads or fasteners.
As an added benefit, the frames can incorporate fire-resistive insulating materials or other thermal barriers within their core necessary to meet temperature-rise requirements, with only a marginal increase in frame profile size. This makes it possible for design teams to closely match the aesthetic and technical aspects of traditional aluminum frames in door applications requiring stringent fire protection.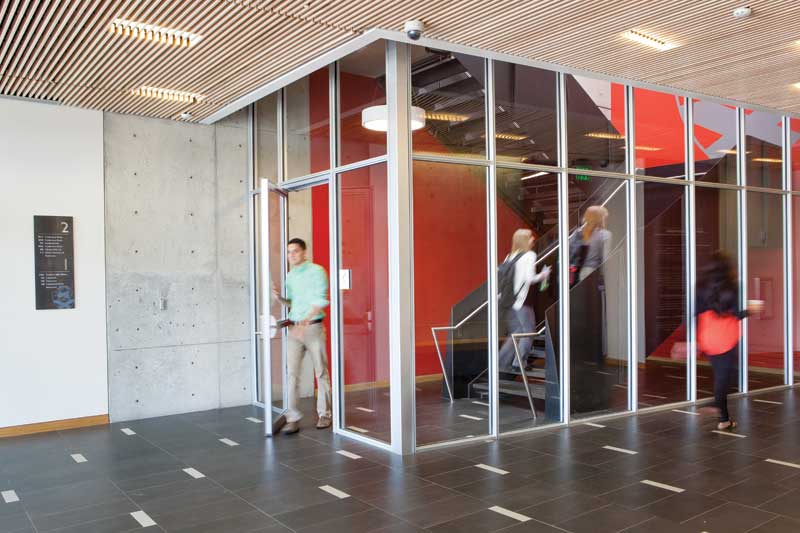 Design teams can also specify fire-rated doors and frames in a wide array of colors, materials, and finishes. Popular options include custom powder coating of steel doors and frames to match virtually any color scheme. Numerous manufacturers also offer a wide variety of wood species and designs capable of incorporating fire-protective or fire-resistive glazing.
In applications where the glass' aesthetic is the focus of the fire-rated door design, decorative surface treatments are available to preserve the product's fire and life safety performance. For example, some fire-rated glass products can be lightly sandblasted or etched on one side while still maintaining their fire rating. Fire-rated glass can also be combined with colored or tinted decorative glass as part of an insulated glass unit (IGU). In either instance, the flexibility to alter the opacity of fire-rated glass provides a crucial, functional benefit in academic institutions and healthcare centers, where doors designated to provide fire protection by code may also need to balance light transfer with occupant privacy.
As fire-rated glass performance varies product-to-product, it is important to verify with the manufacturer or supplier whether a given fire-rated glazing product can be sandblasted, etched, or combined with decorative glass in an IGU and maintain its fire rating.
Conclusion
When fire-rated doors are not on duty combatting a fire, millions of people will pass through them without even realizing they provide fire protection. In large part, this is due to fire-rated glazing. To ensure occupants continue to reap the benefits of fire-rated glass doors, it is important to continue specifying and installing proper products. If doubts arise during the design or specification process, manufacturers or suppliers can often provide valuable insights.