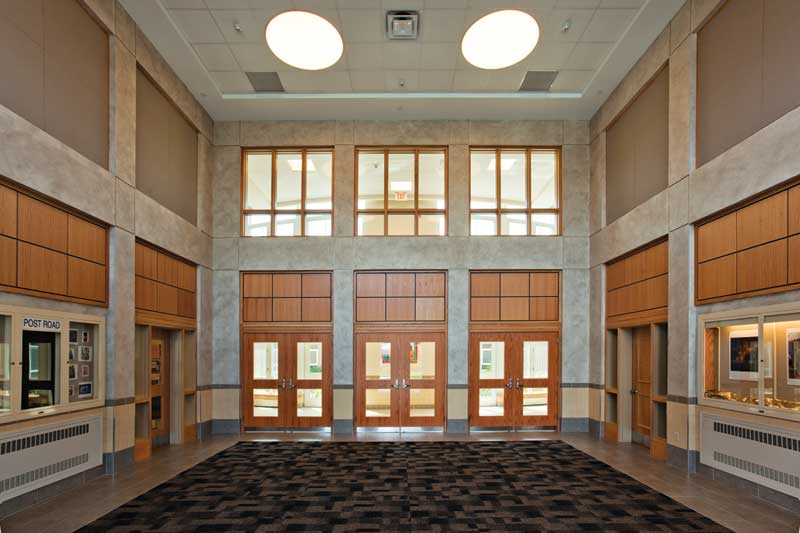 3.  Has the glass passed all required tests?
Once fire-rated door criteria have been established, it is critical to verify the fire-rated glass product has passed all required tests outlined in the building code. To help simplify this process and ensure correct specification and installation, the 2012 IBC requires fire-rated glass labels to include a multitude of information, including:
product name;

basic characteristics (e.g. tempered, laminated, etc.);

compliance with impact safety requirements; and

whether it is listed by an independent testing agency, such as UL.
The 2012 IBC also requires fire-rated glazing to carry a set of four markings quickly referenced by inspectors, code officials, specifiers, the fire service, and other building industry professionals to identify its fire-rated capabilities. (See "Reading Fire-rated Glass Labels.") According to 2012 IBC Table 716.3, "Marking Fire-rated Glazing Assemblies," these markings indicate the following:

whether it is suitable for use in doors, openings, or walls;

conformance with the required hose stream test;

conformance with any temperature rise criteria; and

approved fire-rating (in minutes).
There is also fire-rated glazing that has passed tests for impact-safety testing (required for door lites), as overviewed in Question 4, and optional tests such as bullet-resistance. These tests depend on the specific application in which the product is used.
Additionally, after evaluating the fire-rated glazing material and its compliance with building codes, the manufacturer's or supplier's product literature should be reviewed in detail. It is important to look for any special requirements, limitations, or exclusions. For example, one should consider being wary of any materials requesting an exemption or specific Authority Having Jurisdiction (AHJ) approval for not complying with the mandatory test or building code criteria. Such products warrant closer inspection to ensure they provide the necessary level of fire and life safety protection.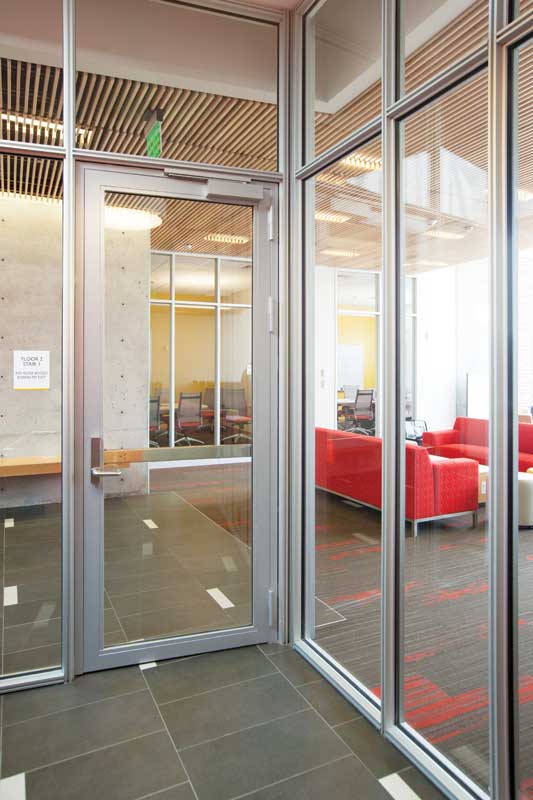 4.  Does the specified glass meet impact safety criteria?
Starting with the 2006 IBC, fire-rated glazing in all hazardous locations, as specified in the code's Sections 2406.4.1 through 2406.4.7, must also pass an impact safety test. As doors are often subject to human impact and installed in hazardous locations, all glazing in doors must meet this impact-safety criteria. Fire-rated glazing adjacent to or nearby the door (e.g. side lites or glass located near the floor) is also typically required to comply with these standards.
When it comes to fire-rated glass specification, this means traditional wired glass is no longer suitable for use in fire-rated door assemblies or glass applications required to meet impact safety criteria by code. The absence of a fire-rated glazing material with the desired impact safety performance had long led code officials to grant an exemption that allowed traditional polished wired glass—which can only withstand about 14 kg/m (100 ft/lb) of impact (comparable to a five-year-old child running into the glass)—to be used in areas requiring fire protection and high-impact safety protection. However, when this exemption was lifted, building industry professionals were restricted from using what had become their 'go-to glass' in fire-rated doors.
By 2006, manufacturers had developed clear, wireless glazing options with a high level of fire protection and impact resistance. Building and design teams can now select from products like laminated fire-rated glass ceramic and fire-resistive glazing products that provide up to Category II (i.e. Consumer Product Safety Commission [CPSC] 16 Code of Federal Regulations [CFR] 1201, Safety Standard for Architectural Glazing) impact-safety ratings. These products either do not shatter, or shatter in a safe pattern when struck by an object comparable in impact to a full-grown, fast-moving adult.
5.  Is visibility through doorways critical to occupant wellbeing?
Where the architect or building owner desires a full-lite, fire-rated glass door to maximize natural light, improve wayfinding, or allow first responders to quickly see in and evaluate potential threats during a fire event, a fire-rated glazing solution is almost always available.
For example, fire-protective glass can often be used in the maximum size (as tested/listed by an independent testing agency) in fire doors with 20- or 45- minute ratings. Fire-resistive glass is an alternative when fire-protective glass is subject to area and size limitations, as may be the case in doors with temperature-rise criteria.
Fire-resistive glass is tested to ASTM E119, Standard Test Methods for Fire Tests of Building Construction and Materials, and is therefore suitable for use in all doors (including those with temperature-rise door applications), without any size limitations beyond what has been tested and certified/listed by the manufacturer. Remarkably, even though fire-resistive glass features a multi-laminate makeup, many products still offer nearly the same level of visual clarity as ordinary float glass. As such, it can bring exceptional visibility to doors with stringent fire and life safety criteria.