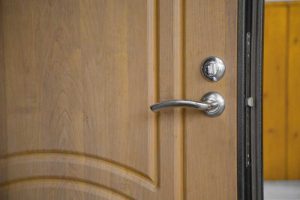 by Jacob Wexler
Sustainability for the author, a door hardware professional, means specifying and correctly installing high-quality products on door openings that will not be damaged during occupancy and do not require extensive maintenance. In short, sustainability in an opening means the specified hardware will last for years.
Choosing products for sustainability
Gasketing manufacturers provide a range of products to enhance an opening's sustainability. From gasketing to thresholds and everything in between, these companies bring small details together to make effective and code-compliant openings.
In some cases, gasketing may even be required to meet code. For example, fire door assemblies in corridors and smoke barriers need to be tested in accordance with the Underwriters Laboratories (UL) 1784, Standard for Air Leakage Tests of Door Assemblies and Other Opening Protectives.
As specifiers, it is important to realize that while end-users will replace a broken deadbolt, they are less likely to change out a defective door bottom or replace cracked rubber in gasketing. In most cases, they will ignore or pull it off without replacement. This compromises both the security and sustainability of that opening.
Thresholds and adhesives
Thresholds are specified to restrict airflow, smoke, light, heat, and cold. They can provide functions such as life safety, security, and energy efficiency.
Commercial thresholds are manufactured from extruded aluminum, bronze, brass, or stainless steel. Often double-beveled, these are extruded to be a single piece.
However, thresholds can also be extruded with grooves in them that are filled with a specific type of abrasive adhesive product. Based on the opening and type, this adhesive can help extend the life of the threshold because it eases wear and tear. Owners can have liability issues whenever a product like this becomes worn down. For example, if a threshold holds water or has oil exposure, it can become slippery and cause users to slip and fall.
To achieve a positive influence on sustainability, it is best to specify an adhesive that makes sense for the opening's purpose.
Epoxy abrasive
This exceptionally strong surface provides the utmost safety for outdoor applications, and should be used in all exterior openings to assist and maintain the sustainable life of the opening. It is also useful for parks, schools, hospitals, and industrial buildings.