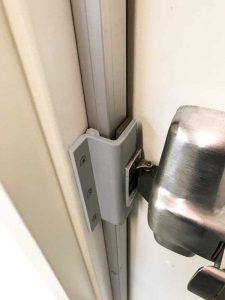 A quick note on the difference between weather stripping and gasketing—the former is appropriate when weather protection is the only goal, and the latter should be specified when protection from sound, fire, and/or smoke is desired.
When specifying gasketing, it is important to keep in mind the following:
ensure the specified gasketing does not interfere with any other hardware on the door, such as pivots, cylindrical locks, electronic hardware, surface-mounted closers, or concealed vertical rods;
mounting hardware locations are adjusted for any brackets that must be used on perimeter gasketing;
mounting brackets should always be used when there is surface-mounted hardware that will interfere with gasketing; and
specify gasketing that is appropriate for the setting such as anti-ligature or anti-microbial.
To keep energy from escaping an opening, quality gasketing is paramount. It should also be manufactured for durability.
Rubber compression extrusions
Gasketing is generally composed of aluminum and a seal to block unwanted air, light, or sound. Seals are made in a variety of materials.
Silicone or ethylene propylene diene monomer (EPDM)
This is well-suited for an opening with a big temperature swing. It can be extruded in a variety of colors and carries a good resistance to oxidation and water absorption. This is the preferred seal for gasketing.
Vinyl
Vinyl seals react poorly to cold weather, since they will crack, dry out, and break off.
Neoprene
This seal can either be a solid or sponge neoprene and can only be extruded in black. It is much more resistant to cold than vinyl. While it gets a little brittle, it will not crack.
It is recommended to always specify adjustable over mechanical gasketing. As a building settles, the gasketing may pull away from the door and become useless. However, adjustable gasketing extends the life of the product and enhances the building's sustainability.
One final note on specifications: It is important to ensure the specified gasketing does not interfere with other hardware on the door. This includes, but is not limited to, pivots, cylindrical locks, electronic hardware, surface-mounted closers, and concealed vertical rods.
Installing products for sustainability
Specifiers need to keep in mind the ease—or lack thereof—of installing door hardware. Gasketing needs to be installed properly to ensure the opening functions properly and is sustainable.
One must use adjustable gasketing and a mounting bracket that goes over it to allow for installation of other door hardware. Gasketing must form a complete, uninterrupted, airtight seal around the head, jamb, and sill. To achieve uninterrupted contact, the gasketing must be installed on the same side of the door and frame. Proper sustainable performance also depends on maintaining good surface contact between the gasket and the door edge or frame. This can usually be achieved using compression seals.
Figure 1 shows the incorrect practice of 'notching out' gasketing to create space for hardware. Breaking the seal creates two potential risks to occupants. The first is a security issue, as a break in the gasketing creates an access point to the secure side of the opening. The second is an even more serious threat to life safety as the door assembly was not tested with the modification. This is of particular concern with fire doors where any breaks in the seal are likely to result in the leakage of smoke into a room.
These examples demonstrate how to successfully specify and install products that are going to give an opening a sustainable lifespan. Though the details are small, the impact is big.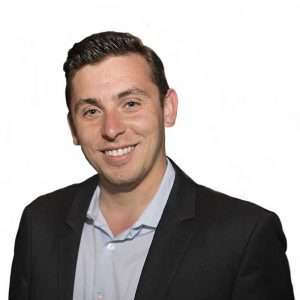 Jacob Wexler is the president of Legacy MFG and can be reached at jacob.wexler@legacyllc.com.