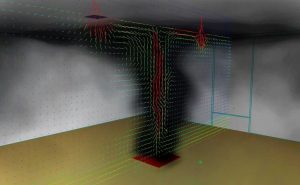 The International Building Code (IBC) calls for smoke control for several high-risk building conditions. Typically, it is required in large-volume spaces (e.g. shopping malls, theaters, airport terminals, entrance lobbies, and sports arenas) where many occupants may be exposed to the effects of fire. High-risk compartmentalized spaces—such as laboratories, high-rise buildings, and underground facilities—may also require smoke control systems.
Designing and implementing smoke control does not have to be a headache. Strong collaboration among the design team is a must, and a fire protection engineer should be included from the beginning. Having proper understanding of system types, code requirements, and available analysis tools is also necessary.
Smoke control is one aspect of fire protection covered in Fire Safety Strategies, the latest addition to The Construction Specifier's series of sponsored e-books.
Fire Safety Strategies provides a multifaceted look at fire behavior in buildings and designing for occupant safety. This four-part e-book covers perimeter fire protection, fire-rated glazing and fire resistance of wall assemblies.
Readers will discover how ineffective curtain wall design, perimeter void fire protections, or spandrel protection can allow fire to spread to adjacent floors in high rises. Plus, learn the questions to ask when specifying fire-rated glazing in fire doors.
Download the Fire Safety Strategies e-book in two different formats—pdf or digital edition—by visiting https://www.constructionspecifier.com/ebook/owens-corning-fire-safety-strategies-e-book/