by Glenn Ferris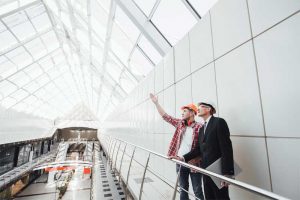 Given the growing use of large and complex sloped glazing systems—considered to be installations where the glass is inclined 15 degrees or more from vertical—as creative architectural statements, the design criteria for them are rapidly evolving. The codes governing their application are also changing to ensure their performance as a viable element of the building envelope. The most important design considerations are environmentally imposed loads, and minimizing their tendency to cause breakage, which can have a greater impact on life and property than it does with vertical glazing.
The International Building Code (IBC) refers to loads on sloped glass in Section 2404.2 for wind, snow, seismic, and dead loads. Section 2405, devoted to sloped glazing and skylights, covers factors such as allowable glazing materials, framing, and skylight performance grades.
Allowable types of glazing are:
laminated glass with a minimum of 0.75 mm (30 mils) polyvinyl butyral (PVB) or equivalent interlayer;
fully tempered glass;
heat-strengthened glass;
wired glass; and
approved plastics.
Potential breakage is key
Proper glass selection and system design is intended to meet specified design load(s) with the primary goal of reducing the probability of glass breakage, which poses risks to people and property. The differences in design considerations between vertical and sloped glazing must be taken into account. For example, sloped glazing is more susceptible to impact from falling objects and hail, and is also more likely to fall from its opening when it breaks than vertical glazing. Breakage may occur due to several factors, either acting alone or in combination.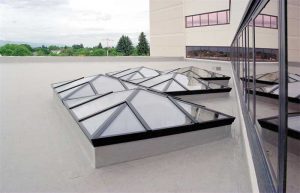 For safety in case of breakage, the latest version of IBC requires the use of screens below sloped glazing positioned more than 30 degrees from vertical and 3 m (10 ft) above a walking surface, except when the glazing is laminated glass with an interlayer of 0.75 mm or greater in thickness.
Design considerations
Good design focuses on the choice of glass, selected for a low probability of breakage, yet with minimal consequences if breakage does occur. Designers and architects of sloped glazing edifices must orchestrate the use of industry and regulatory standards and guidelines, such as ASTM E1300, Standard Practice for Determining Load Resistance of Glass in Buildings, the American Society of Civil Engineers/Structural Engineering Institute (ASCE/SEI) 7, Minimum Design Loads for Buildings and Other Structures, and the American Architectural Manufacturers Association (AAMA) GDSG-1, Glass Design Guide for Sloped Glazing and Skylights, as well as IBC and the International Residential Code (IRC).
The prediction of the performance of glass in sloped glazing is more complex than for vertical glazing, given that snow loads must be considered, and different thicknesses and irregular shapes of glass lites may be used. The considerations involved are numerous.
Strength
The apparent strength of the glass—and in the case of laminated glass, the ability of the interlayer material to resist stresses—is time dependent. Short-term loads, such as wind, must be considered differently than long-term ones like snow and dead loads. There are two primary load types to consider: dead and live.
Dead load
For sloped glazing systems, the weight of the glass is the primary dead load. Any loads transferred to the glass due to twisting or other deformations of the framing also are considered dead loads.
One 1 m2 of glass that is 1-mm thick weighs roughly 2.5 kg (1 sf of glass 1-in. thick weighs roughly 13 lb.). The equivalent uniform dead load of a given type of glass in kilograms may be estimated by multiplying the total glass thickness in millimeters by 2.5 (or, the dead load in pounds if the thickness is in inches and is multiplied by 13). This will give the dead load for horizontal glass. For other slopes, the value should be multiplied by the cosine of the angle of slope in degrees as measured from horizontal (pitch).