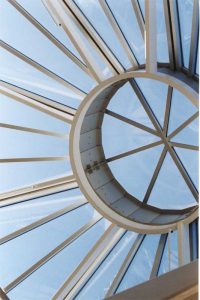 To minimize the possibility of penetration, it is recommended a single lite, or the inboard lite of insulating glass be laminated with an interlayer thickness of 1.5 mm (60 mils) or more. In regions where hail is common, the use of laminated glass with both plies of heat-strengthened or fully tempered glass is recommended. Here, Factory Mutual (FM) 4431, Approval Standard for Skylights, is often the governing standard.
Thermal stress
Differential thermal expansion between framing and glazing, as well as between exposed and shaded areas of a given lite, must be accommodated through appropriate glass bite dimensions and selection of proper sealant and glass type. For most orientations, the temperature sloped glazing may reach is usually higher than for vertical glazing because the sun's radiation would be more perpendicular to the glass surface and layering of warmer air at the interior. Consequently, such thermal stresses require heat-strengthened or fully tempered glass.
Frame deflection limits
A supported glass edge should have an edge deflection limited by the framing member to no greater than L/175 where L is the length of the glass edge and the deflection is determined by the displacement of the framing member along the edge.
In general, the preferred practice for glazing in skylights and sloped glazing is to provide firm support for all edges of the glass. This is mandatory for IGUs. The support may be by conventional channel glazing or by structural retention with a silicone sealant.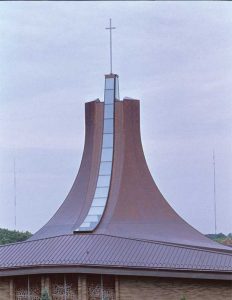 Water drainage
Water infiltration and condensation should be drained or weeped away from the edges of the glass to prevent detrimental freezing of the water, damaging effects of moisture on edge seals of insulating glass, or possible debonding of interlayer material in laminated glass. The framing system must always drain the water from the lowest points of the glazing channel and framing system. Assemblies that work well for vertical glazing are often unsatisfactory for sloped glazing.
Size limitations
While large, open expanses of glass that are uninterrupted by framing may be aesthetically desirable, experience suggests limitations must be placed on the use of certain types and thicknesses of glass in sloped glazing beyond those required by building codes.
For example, annealed laminated glass is recommended to be limited to maximum areas depending on glass thickness. For two plies of 3-mm (1/8-in.) glass, the maximum size should be 1.1 m2 (12 sf); for two plies of 5-mm (3/16-in.) glass, 1.7 m2 (18 sf); and for two plies of 6-mm (1/4-in.) glass, 2.2 m2 (24 sf). Larger maximum areas are permitted for heat-strengthened or fully tempered laminated glass, amounting to roughly twice that of annealed laminated. The thickness of the interlayer may be 0.75 mm when annealed glass plies are used. When plies are heat-strengthened or fully tempered glass, the interlayer thickness should double. For insulating glass, the maximum dimensions are dictated by the maximum allowable sizes of the two lites of glass, which is generally specified by the manufacturer.
Applying design considerations such as these is more important now than ever, given the increasing recognition of skylights and sloped glazing systems as energy-saving 'green' options, especially when properly applied and melded with smart controls of electric lighting to maintain a stable interior level of illumination. Current codes and design conventions aimed at implementing them enable conformance with green building rating systems such as Leadership in Energy and Environmental Design (LEED) or GreenGlobes while ensuring installations are safe and durable, as well as energy efficient.
All of these design considerations and more, as well as guidance in applying them, are provided within AAMA GDSG-1, published by the Fenestration and Glass Industry Alliance (FGIA). Other published resources include:
AAMA SDGS-1, Structural Design Guidelines for Aluminum Framed Skylights;
AAMA TIR-A7, Sloped Glazing Guidelines;
AAMA TIR-A11, Maximum Allowable Deflection of Framing Systems for Building Cladding Components at Design Wind Loads; and
the Insulating Glass Manufacturers Association (IGMA) TB-3001, Guidelines for Sloped Glazing.
For more information, visit www.fgiaonline.org.