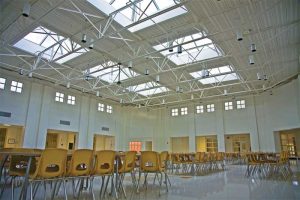 For example, a 12.7-mm (1/2-in.) thick horizontal glass sheet would have a dead load of 31.75 (12.7 x 2.5) kg/m2 (or, a 1/2-in. thick horizontal glass would have a dead load of 6.5 [0.5 x 13] lb/sf). When installed in a sloped glazing system at a 45-degree pitch, the dead load is 31.75 cos 45 (31.75 x 0.707), or 22.4 kg/m2. The equivalent in imperial units for a ½-in. thick glass sheet at a 45-degree pitch is 6.5 cos 45 (6.5 x 0.707) or 4.6 lb/sf.
Live load
Live loads are unattached loads imposed by window washing devices, dropped or temporarily placed equipment or supplies, or a person walking on the glass. Codes require the framing members supporting glass to withstand concentrated live loads, but this does not extend to the glazing itself. In fact, glass should not be exposed to live loads. Therefore, live loads are not considered in the design of glass meant for skylights or sloped glazing.
ASTM E1300 considers the combination of snow and wind loads and glass slope and weight. The standard covers all conditions for different edge support methods. It approaches glass strength statistically, as microscopic variations from one sheet of glass to another preclude accurately predicting the strength of a given lite. For example, it supplies load resistance charts for a glass probability of breakage of eight lites per 1000, which is considered reasonable for most applications.
The strength of heat-strengthened and fully tempered glasses is taken into account in ASTM E1300 through the use of a glass type factor (GTF). Essentially, the appropriate GTF multiplied by load resistance of annealed glass gives the load resistance for a specific thickness of other types of glass. When using ASTM E1300 for insulating glass, a load share (LS) is applied to each of the glass lites in order to determine the load resistance of each lite in an insulating glass unit (IGU).
Wind load
The magnitude of wind loads is based on slope, orientation with respect to the wind, effect of surrounding structures and terrain, and wind velocity.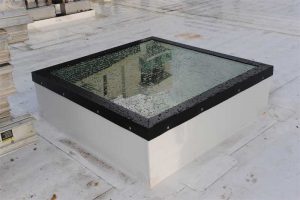 For common building shapes, background guidance on design wind velocities is found in ASCE/SEI 7, which gives the peak wind velocity that can be expected in a specific geographical location based on a mean recurrence interval of 50 years of a maximum wind gust of three seconds' duration. One caveat: buildings of unusual shape or geometry may render the standard inadequate for defining loads on sloped glazing and skylights.
For potential exposure to hurricane-force winds, it is best to refer to Chapters 16 and 24 of the Florida Building Code (FBC) for appropriate measures. Those outside Florida may consult ASTM E1996-17, Standard Specification for Performance of Exterior Windows, Curtain Walls, Doors, and Impact Protective Systems Impacted by Windborne Debris in Hurricanes.
Snow load
While wind and snow loads are a type of live load, they are considered separately in load analysis and are sometimes termed environmental loads. A common error is to specify snow loads (long duration) as live loads (short duration). This could lead to the under-design of a sloped glazing system. Also, these loads may be dramatically increased beyond the normal snowpack due to drifting.
Surface damage
Flat glass surfaces inherently have numerous randomly distributed microscopic flaws, resulting in widely varying strengths among otherwise identical lites. This may be accommodated in various ways, one of which is the coefficient of variation—a measure of the distribution of the glass strength for a large number of lites. It is influenced by the degree of heat treatment of the glass, being highest (0.25) for annealed, 0.15 for heat-strengthened, and lowest for fully tempered (0.10). This reflects the increase in glass strength due to higher surface compression. In practical terms, a coefficient of variation of 0.25 means the strength of 68 percent of the glass lites will be within ±25 percent of the average and 95 percent within ±50 percent of the average.
Impact from wind-borne debris
The ability of fenestration of all types to resist such impacts is especially important in areas where high wind events, such as hurricanes, regularly occur. Fenestration materials in these areas should either be rated as impact resistant and/or be protected by impact-protective systems. ASTM E1886, Standard Test Method for Performance of Exterior Windows, Curtain Walls, Doors, and Impact Protective Systems Impacted by Missile(s) and Exposed to Cyclic Pressure Differentials, and E1996 commonly are referenced testing specifications. For Florida's High Velocity Hurricane Zone (HVHZ), Miami Dade County testing protocols TAS 201, Large and Small Missile Test Standards, TAS 202, Uniform Structural Load Standards, and TAS 203, Uniform Cyclic Pressure Test Standards, are specified.