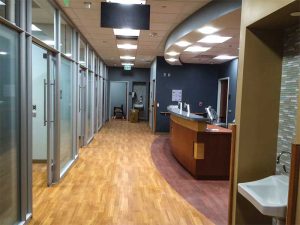 Although sound transmission class (STC) will be similar, depending on the design of the wall or floor assembly and certain noise sources with low or high frequency, the performance of mineral wool versus fiberglass insulation may vary. It is important to reference specific acoustical testing results in order to determine which type of insulation is better suited for the application, since varying configurations can result in differences at certain frequencies.
The STC of an assembly can also affect noise levels and occupant comfort. STC is a composite rating that was derived from wall system sound attenuation performance across a range of frequencies. Within a healthcare facility, specific frequencies native to the environment should be evaluated. For example, conversation and general activity in a public space such as a lobby or cafeteria will generate different frequencies compared to a pediatric playroom or heart rate monitors in a critical care unit.
The STC composite rating reflects the general performance across multiple frequencies, indicating how well a building partition attenuates airborne sound overall. STC is widely used to rate interior partitions, ceilings/floors, and wall configurations. However, it may not be the best point of comparison when evaluating a specific frequency of sound. Taking into account individual frequencies, such as the beeping of intravenous (IV) pumps or the low-pitched voice of a male doctor or faculty member, can improve a wall's acoustic performance and help an architect select the type of insulation best suited to a specific wall.
Insulation by itself does not have an STC rating. Instead, these metrics indicate acoustical performance for an entire wall system. Within a healthcare facility, some areas demanding special thought when it comes to isolating noise include consultation rooms, speech pathology and audiology areas, neonatal intensive care areas, and medication prep rooms. They may require a specific STC, but could be designed efficiently to meet the needs of specific noises.
The following are some practical examples of how architects and specifiers can mitigate specific sounds in areas demanding special thought when it comes to isolating noise.
As sound transmission through electrical outlets on opposite sides of a wall can negatively impact the assembly's acoustical performance, sealing these areas with an appropriate acoustical sealant material can help minimize sound transfer.
Using a light-gauge, steel resilient channel as a decoupling device works to reduce vibration and sound transfer through studs.
Adjacent assemblies should be designed or selected to be of similar sound control performance.
Flanking sound paths should be acoustically treated or eliminated. Flanking over the top of walls above the ceiling plenum can be reduced by installing insulation material above the ceiling and extending the insulation at least 1.2 m (4 ft) on either side of the wall.
Acoustical sealant is critical to effectively sealing the wall and reducing sound transmission. For drywall partitions, this can be accomplished by placing a continuous bead of sealant along all perimeter edges between gypsum panels and surrounding floor, wall, and ceiling elements.
Acoustical sealant should be placed around ducts, electrical boxes, sprinkler heads, and/or anything penetrating the sound partition.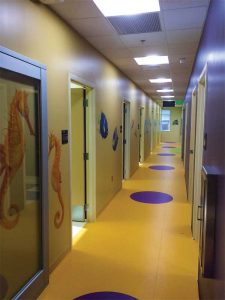 From a comfort perspective, noise reduction is cited as a top concern when it comes to facility construction. Noise is also strongly linked to patient satisfaction. In addition to the increased isolation acoustically private spaces provide, quiet spaces lead to a better experience for patients. While much room noise—such as that generated by monitors, alarms, ventilators, and other systems—cannot be eliminated, reducing noise between rooms and from hallways can contribute to patients getting more rest, which can assist with recovery. High noise levels in hospitals have been shown to have a negative impact on heart rate, respiration, blood pressure, and muscle tension for both patients and medical staff. Improving insulation in new construction or during a renovation can cut down on disruptive noise.
Conclusion
By considering the location of insulation within the enclosure, incorporating evidence-based design, and applying WUFI analysis to healthcare building and renovation projects (see "Balancing Thermal, Moisture, and Airflow with WUFI,"), design profesionals can help achieve building safety, moisture control, and acoustic performance goals while improving both patient satisfaction and staff performance. The end result of all of these considerations may support improved patient outcomes.
Tiffany Coppock, AIA, NCARB, CDT, ASTM, RCI, EDAC, LEED AP, is Owens Corning's commercial building systems specialist. She provides leadership and technical guidance in building science, testing, and documentation to design professionals and the Owens Corning team. Formerly, Coppock was a building science manager answering technical questions, reviewing drawings and specifications, and giving educational sessions on topics such as air barriers, waterproofing, vegetated roof assemblies, and insulation. She holds degrees from Texas A&M University and the University of Colorado, Coppock is a registered architect with specialization in healthcare design and historic preservation. Coppock can be reached via e-mail at tiffany.coppock@owenscorning.com.
Angela Ogino is Thermafiber/Owens Corning's technical services leader. She has more than 20 years of experience in the mineral wool and firestopping industry, where she provides engineering judgements and technical assistance on mineral wool product performance for architects, building officials, and contractors in the fire containment area. Ogino is the developer and coordinator of all perimeter fire containment testing for Thermafiber at Underwriters Laboratories (UL), Southwest Research, and Intertek/Omega Point Laboratories (OPL). She is a member of the Insulation Contractors Association of America (ICAA), the International Firestop Council (IFC), and Firestop Contractors International Association (FCIA). Ogino is active in code development for the International Building Code (IBC) Chapter 7, "Fire and Smoke Protection Features." She can be reached via e-mail at angela.ogino@owenscorning.com.