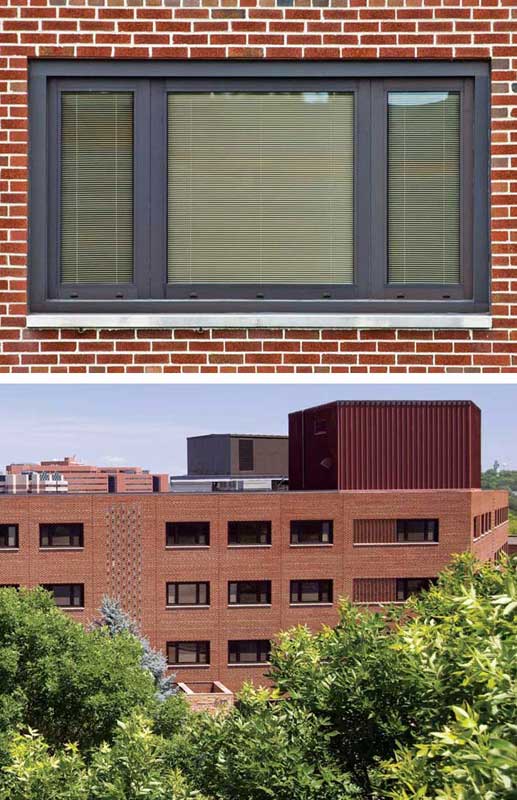 Facilitate ventilation and emergency egress
Although usually not required by code, some healthcare systems and government agencies, including the U.S. Department of Veterans Affairs (VA), recommend considering operable windows for their facilities. In the rare case of a fire, facilities with operable windows have the option of venting smoke and aiding egress.
Operable windows provide a backup for smoke evacuation in case of an engineered smoke control system failure, and may alleviate the need for dangerous firefighter glass breakage to conduct emergency evacuation from the exterior. With operable units, custodians may quickly vent foul smells or noxious fumes. During normal operating conditions, concealed hinges and tamper-resistant locks prevent patients from compromising security by opening the window.
In hurricane-prone regions, wind-borne debris protection is also essential. Ensuring hospital windows stay intact during such an event keeps the building serviceable and protects occupants. These regions require large-missile-tested products at lower floors of healthcare facilities. In the event of an emergency, the laminated or polycarbonate security glazing will be practically impossible to break out—operable windows may be the preferred choice for firefighter access. Outside of hurricane-prone regions, healthcare facility managers are advised to consider their location's likelihood of tornadoes or other natural disasters, as evacuation may be impossible.
Some healthcare facility professionals are surprised to learn about half of the states are susceptible to seismic activity. Large hospitals are "essential facilities," classified as Occupancy Category IV by the American Society of Civil Engineers and Structural Institute/Structural Engineering Institute (ASCE/SEI) 7-10, Seismic Loads Significant Changes. Guided by this standard, the 2012 International Building Code (IBC) includes detailed provisions to help hospitals not just withstand an earthquake, but also continue functioning during and after a seismic event.
To properly engineer windows and curtain walls to withstand earthquakes, parameters specific to the building and site must be considered. Glazing assemblies must elastically accommodate lateral seismic drift without glass breakage or losing weather resistance. Under inelastic movements, safety of occupants and passersby is critical. Additionally, inertial forces must be safely transferred to the building structure.
Early design coordination with adjacent wall system movement and anchorage provisions is essential for maintaining overall envelope integrity. The California Office of Statewide Health Planning and Development (OSHPD) helps ensure healthcare services remain available during and after major seismic events. Through strict adherence to OSHPD administrative and technical requirements, project approvals are obtained in a timely manner.
Adapt for reuse
Renovations offer a healthcare facility manager a chance to enhance safety with improvements to the structure. For renovations or expansions, matching an existing structure's window sightlines and symmetry can be challenging. Working closely with a glazing contractor and window manufacturer, healthcare facilities can achieve the desired aesthetic without compromising performance and safety. For major renovation projects, installation of in-situ samples is highly recommended.
The need for easy customization and durability has made aluminum an important material choice for historically influenced window replacement work. Applied muntin grids can help achieve a classic, multi-pane appearance. Factory-applied anodize and baked-on fluropolymer paint finishes offer long-lasting options to match existing color schemes, without affecting indoor air quality (IAQ) by introducing volatile organic compounds (VOCs). Aging facilities may be returned to their original colors or updated after years of chalking, peeling, or expensive repainting.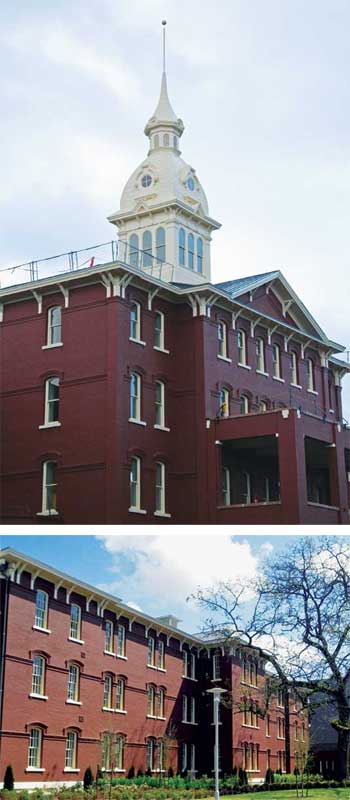 In cases when existing windows are weather-tight, and operation for ventilation is not required, the addition of high-quality, custodian-operable, interior-accessory windows can be a viable option, facilitating behavioral occupancy of structures originally intended for another use. With appropriate caution to avoid between-glass condensation and thermal stress breakage of existing glass, these economical add-on units improve control of sound, energy, air, and light, while leaving existing windows undisturbed.
The University of Minnesota's Medical Center Fairview Behavioral Health Services recently renovated its facility for patient safety and energy efficiency. Privacy, security, and aesthetics were key considerations in selecting the window system. The new windows were configured with three lites per bay to echo the facility's previous aesthetic. The specified windows are security-glazed with laminated glass for impact resistance, and a low-e coating for energy efficiency and condensation resistance. Even during Minneapolis' freezing winter months, the windows help keep patients comfortable in their rooms.
Connect to the environment
Daylight and outside views, thermal performance, and recycled composition of windows' materials can aid buildings' certification efforts under such programs as Leadership in Energy and Environmental Design (LEED) for Healthcare. Since its inception in 2000, U.S. Green Building Council's (USGBC's) voluntary, consensus-based LEED rating system has emerged as the leading sustainable building 'scorecard.'
Environmentally responsible design and operation is a top-of-mind issue for anyone in architecture, construction, and real estate. Buildings represent about one-third of the energy consumption in the United States, along with the corresponding amount of greenhouse gas (GHG) emissions.
LEED for Healthcare has increased the amount of potential points awarded to projects in several areas affected by windows and curtain wall assemblies.
Energy and Atmosphere
Energy and Atmosphere (EA) Credit 1, Optimize Energy Performance, allows two points (instead of only one in the 'normal' LEED) under its Option 3, "Prescriptive Compliance Path."
Materials and Resources
Under Materials and Resources (MR) Credit 3.1–3.4, Sustainably Sourced Materials and Products, LEED for Healthcare awards up to four points for using materials that reduce environmental burdens in construction of buildings. For a total of eight points, this combined category includes LEED-NC Version 2.2 credits:
Materials Reuse;
Recycled Content;
Regional Materials;
Rapidly Renewable Materials; and
Certified Wood Credits.
Further, MR Credit 6, Resource Use: Design for Flexibility, offers one point for projects considering potential changes in space utilization.