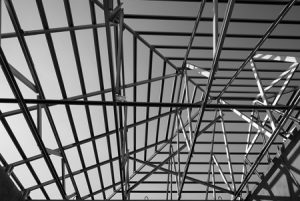 The American Iron and Steel Institute (AISI) has published a new cold-formed steel research report on loadbearing clip angle design. The report "RP18-4: Load Bearing Clip Angle Design – Phase II" presents the second phase of a research project aimed at developing design methods for three limit states of cold-formed steel clip angles—shear, compression, and pullover of the screw connections.
During the first phase of the research, new design methods were developed for the three limit states. Load and resistance factor design (LRFD) and limit state design (LSD) resistance factors and allowable stress design (ASD) safety factors were also provided to apply to the proposed design equations for nominal strength. In the second phase, the research focused on investigating the following:
fastener pattern effects on the behavior and strength of clip angles;
serviceability of clip angles subjected to tension;
design of clip angles subjected to combined shear and bending with different boundary locations.
"Clip angles are widely used in cold-formed steel structures, and the completed phases of this research provide us with a better understanding of their behavior," said Jay Larson, PE, FASCE, managing director of AISI's construction technical program. "The results of this work will enable improved guidance and aids for designers of cold-formed steel structures."