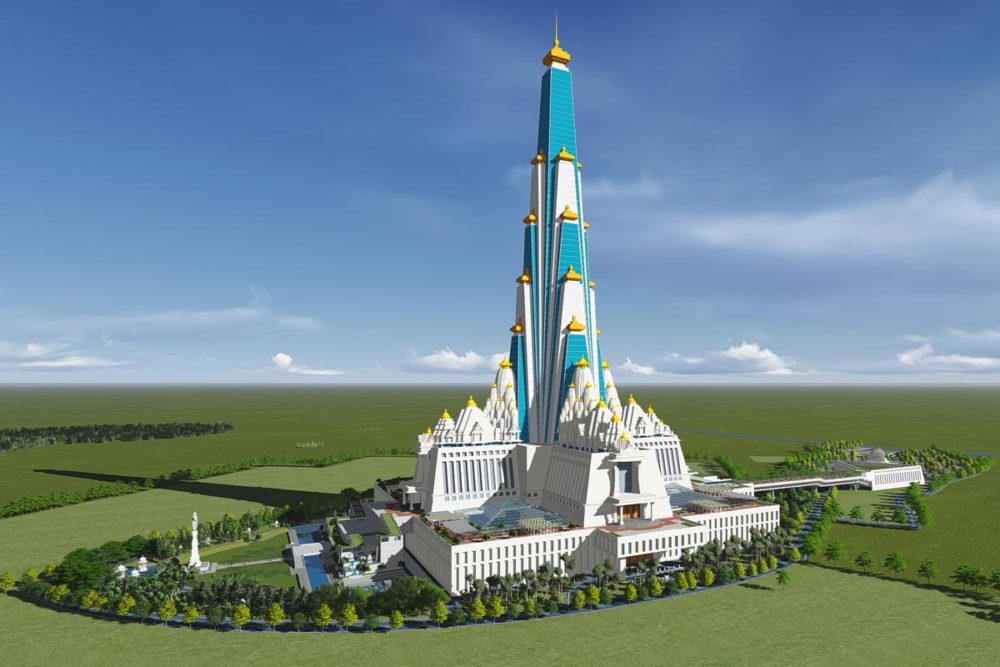 U.S. engineering firm Thornton Tomasetti has been selected to complete the structural design for Vrindavan Chandrodaya Mandir—a New Delhi temple that will, on completion, be the tallest religious structure in the world. With a footprint of 2 ha (5.5 acres) and a height of 210 m (700 ft), this building will be the result of collaborative work by 25 consultants of different religions and nationalities.
The structure will incorporate more than 40 lifts, including six with high-speed capabilities (i.e. traversing 8 m per second [26 ft per second]). A capsule elevator from the ground level will travel through the temple core as part of an interactive experience. A light, sound, and diorama show will center around this elevator, displaying different planetary systems as described in the Vedic literatures until guests reach the viewing gallery on the top floor.
The temple will include the Krishna Heritage Museum and will also feature four temple halls for six religious figures, which can cumulatively accommodate approximately 10,000 people. Three of the four halls individually comprise about 2787 m2 (30,000 sf).
As the world's tallest religious structure, Vrindavan Chandrodaya Mandir requires a great amount of construction materials. It will include 32,516 m2 (350,000 sf) of glazing, 127,426 m3 (4.5 million cf) of concrete, 17.2 million kg (19,000 tons) of reinforcement steel, and 5.8 million kg (6400 tons) of structural steel, and will be supported on more than 500 piles, which will each be 1 m (3 ft) in diameter and 55 m (180 ft) in depth. The project team is seeking a Gold rating under the Leadership in Energy and Environmental Design (LEED) program.
Thornton Tomasetti's structural design for this project is being led by Leonard Joseph, who has experience working on similar projects such as Taipei 101 and Shanghai Tower. Joseph is also currently designing the world's tallest structure, the Kingdom Tower at Jeddah, which will stand 1.1 km (0.7 mi) tall.
Among the other consultants on the project are Canadian consulting engineering firm RWDI, completing wind-tunnel design with a wind-load goal of 226 km/hr (140 mph), and India's Tata Consulting Engineers, which designed the queue systems to accommodate 35,000 people on a normal day. (On a festival day, these systems should be able to hold 250,000.) Another American firm, Aecom, will install and design a fire and life safety system, led by Sunil Shahani, who has experience with similar designs.
A seismic study of the site is also being carried out by Indian Institute of Technology (IIT) Roorkee to ensure the building design is set to withstand the expected amount of seismic activity. Currently, the temple is designed to endure a seismic event of almost twice the intensity of the biggest known earthquake in the area, which occurred in 1803 and reached a magnitude of 6.8 on the Richter scale.
Recreation opportunities will also be available around the temple, such as an extensive recreation of the Vrindavan forests—described in Hindu religious texts such as Srimad Bhagavatam—surrounding the structure and boating opportunities at nearby Yamuna Creek.