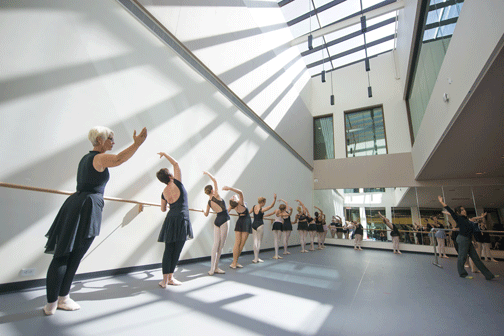 Students and staff at the University of Wyoming's (UW's) Laramie campus can now develop their music, theater, or dance skills in a newly renovated and expanded facility.
Named for UW's recently retired president, Tom Buchanan, the $35-million Buchanan Center for the Performing Arts includes approximately 4645 m2 (50,000 sf) of new construction and partial renovation of the existing 11,984-m2 (129,000-sf) fine arts center. In addition to cultural programs and fine arts outreach, the facility also houses the music, theater, and dance departments.
One of the building's defining features, the glass and aluminum façade comprises a double wall that can help achieve high acoustic performance and accommodate a free span of more than 9.4 m (31 ft).
"We tried to bring in natural light to the two main rehearsal spaces through clerestory units," said Steven Dwyer, architectural design team leader for HGA Architects and Engineers in Minneapolis, Minnesota. "A feature space is the recital hall, in which you can see the entire back stage wall is glazed. This is somewhat unique in a performance environment and is intended to use the glass as a connection from the hall onto an east quad."
A pressure-plate curtain wall assembly comprises the dance studio's two-story sloped wall.
"Natural light was an important feature of many of the other performance and rehearsal spaces," said Kenneth A. Tobin, principal of Tobin & Associates, co-designer on the project. "But because the dance studio was located both on the lower level and in an interior space, windows were not an option. We felt a two-story [wall] would not only provide the studio and surrounding study and viewing areas with natural lighting, it would also complement the other window system treatments used throughout the center."
For UW's Buchanan Center, the curtain wall's aluminum framing was finished in a medium-bronze anodize finish. Anodized aluminum is 100 percent recyclable and can provide abrasion-resistance with minimal maintenance in most environments.
The Buchanan Center was awarded Silver certification under the Leadership in Energy and Environmental Design (LEED) program.